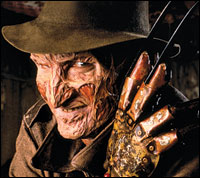 Freddy Krueger is back as New Line has decided to revive their favourite horror franchise.
The Hollywood Reporter say:
New Line is in talks with horror production company Platinum Dunes to re-launch the "A Nightmare on Elm Street" movie series, the franchise that helped establish the studio.

Partners Michael Bay, Brad Fuller and Andrew Form will produce the redo.

The first "Nightmare" movie was made by Wes Craven and released in 1984. The runaway success of the film spawned a slew of films and created one of the most popular villains in screen history, Freddy Krueger, played by Robert Englund.

The films' premise centered on Krueger, a serial child killer murdered by angry parents, who returns with a burnt face and a razor glove to terrorize teens in their dreams.
Given the terrible remakes of The Texas Chainsaw Massacre, The Amityville Horror and The Hitcher (not to mention the farce that was Freddy vs Jason) is this such a good idea?
> Variety report on the news
> Find out more about Nightmare on Elm St at Wikipedia