Robert Elswit has won the American Society of Cinematographers Award for his work on There Will Be Blood.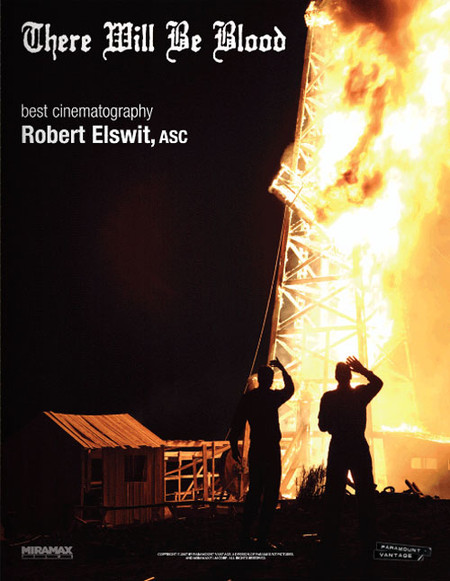 Variety report:
Robert Elswit staved off a tough field Saturday night at the American Society of Cinematographers awards ceremony when he topped the feature competition for his work on Paul Thomas Anderson's "There Will Be Blood." Elswit, who has shot all of Anderson's movies dating back to the filmmaker's 1996 feature debut "Hard Eight," is also vying for an Oscar.

In fact, the Academy's nominees are in perfect alignment with those of the ASC for only the second time in the ASC's 22 years of bestowing awards, with Roger Deakins ("No Country for Old Men," "The Assassination of Jesse James by the Coward Robert Ford") having claimed two slots in both competitions. The last time the two organizations matched noms, John Seale won both contests for "The English Patient," a film with which this year's "Atonement" — shot by ASC and Oscar nominee Seamus McGarvey — has been often compared.

Whether Deakins' two noms created a split vote among the ASC's 298 members can only be left to conjecture. And if one were to view Elswit's ASC win as an Oscar bellwether, one must consider that the ASC's membership represents only a fraction of the Acad's 6,500-plus members who are eligible to vote for Oscar's winning cinematographer.

Elswit's mastery, like that of Deakins', is evident in more than one film released this year; he also shot "Michael Clayton," whose star, George Clooney, worked with Elswit on "Good Night and Good Luck," for which the d.p. also gained ASC and Academy nominations.
It has been a truly exceptional year for cinematography and you have to feel for Roger Deakins, whose brilliance behind the camera on two films probably did split the vote.
However, credit must go to Elswit who has done some incredible work with Paul Thomas Anderson on this and previous films.
I'm also starting to get the feeling that There Will Be Blood is gaining momentum in the build up to the Oscars.
> Robert Elswit at the IMDb
> Extensive article in American Cinematographer magazine on Elswit's work in There Will Be Blood
> An interview with Robert Elswit and production designer Jack Fisk about There Will Be Blood
> An interview with Robert Elswit from January 2006
> Article on Elswit's work on Magnolia