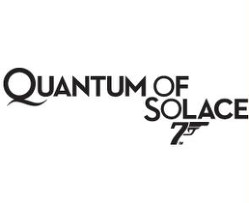 The new Bond film is called Quantum of Solace.
The next James Bond film is to be called Quantum of Solace, producers have confirmed. The title is taken from one of a collection of short stories published by 007 creator Ian Fleming in 1960.

Producer Michael Wilson said the film would have "twice as much action" as 2006's Casino Royale, which saw Daniel Craig debut as the iconic secret agent. The next outing, previously known as Bond 22, is partly being shot at Pinewood Studios in Buckinghamshire.

At a press conference at the facility, reporters were shown a minute of footage from the new film, including Bond swinging on a rope after an explosion at an art gallery in Siena, Italy. Another scene showed him meeting M – played by Dame Judi Dench – outside in the snow. Filming on the movie has been taking place at Pinewood since November.

Daniel Craig said the cryptic title referenced how Bond's heart had been broken at the end of Casino Royale: "Ian Fleming had written about relationships," he explained. "When they go wrong, when there's nothing left, when the spark has gone, when the fire's gone out, there's no quantum of solace.And at the end of the last movie, Bond has the love of his life taken away from him and he never got that quantum of solace."

Craig said the new film would follow 007 as he goes out "to find the guy who's responsible. So he's looking for revenge, you know, to make himself happy with the world again. But the title also alludes to something else in the film."
Wikipedia says the the premise involves:
Michael G. Wilson has confirmed that the film will pick up "literally an hour after" Casino Royale's conclusion, when a wounded Mr. White is shot and captured by Bond. The official synopsis shows that White reveals to Bond and M that his organization has agents in Her Majesty's Government and the Central Intelligence Agency.

Forensic evidence of an MI6 traitor leads Bond to Haiti, where he meets Camille, who then helps him find Dominic Greene. A ruthless businessman and a member of the organisation, Greene intends to use his government contacts to help overthrow the current regime in a Latin American country, and place the exiled General Medrano as the head of state.

Medrano will in exchange give the organization a barren piece of land, which actually will give them total control of "one of the world's most important natural resources". Bond travels to Austria, Italy and South America to unravel Greene's plan, staying one step ahead of the CIA, terrorists and M whilst trying to keep his desire for retribution over Vesper Lynd's death in check.
It is scheduled for release on November 7th.
UPDATE: Here are some photos from the press conference.
Daniel Craig( James Bond), Judi Dench (M) and Marc Forster (director)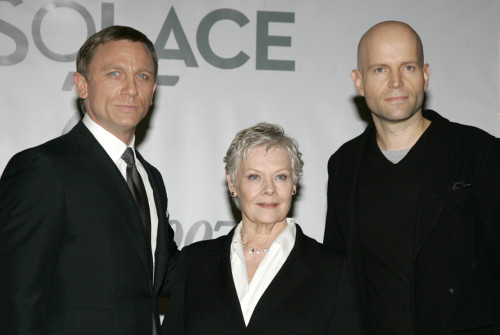 Olga Kurylenko (Camille) and Gemma Arterton (Agent Fields)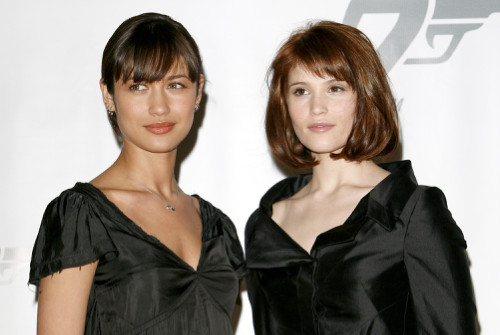 Mathieu Almaric (Greene), Olga Kurylenko, Daniel Craig and and Gemma Arterton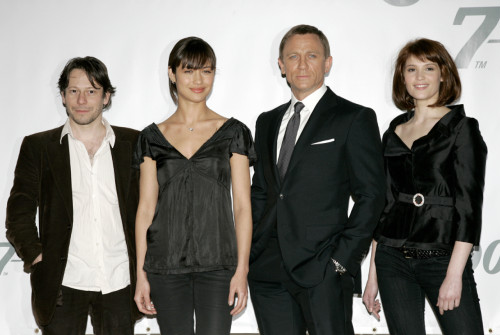 > Official site for James Bond
> IMDb entry for Quatum of Solace
(All photos © 2008 Danjaq LLC, United Artists and Columbia Pictures)