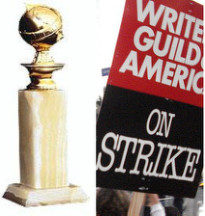 Because of the WGA Strike this year's Golden Globe ceremony was a press conference rather than a star studded TV event.
The big story of the night is Atonement winning Best Picture in the drama category and Julian Schnabel winning for The Diving Bell & the Butterfly.
However, given that the Globes are always distorted by the split between drama and comedy/musicals I wouldn't read a massive amount into the winners. However, it could possibly point to a more even spread of winners in the major categories.
Here are the winners in full:
FILM
Best Motion Picture, Drama: Atonement
Best Actor, Drama: Daniel Day-Lewis, There Will Be Blood
Best Actress, Drama: Julie Christie, Away From Her
Best Motion Picture, Musical Or Comedy: Sweeney Todd
Best Actor, Comedy Or Musical: Johnny Depp, Sweeney Todd
Best Actress, Comedy Or Musical: Marion Cotillard, La Vie En Rose
Best Director: Julian Schnabel, The Diving Bell And The Butterfly
Best Foreign Language Picture: The Diving Bell And The Butterfly, (France/USA)
Best Screenplay: Joel And Ethan Coen, No Country For Old Men
Best Supporting Actor: Javier Bardem, No Country For Old Men
Best Supporting Actress: Cate Blanchett, I'm Not There
Best Animated Feature Film: Ratatouille
Best Original Score: Dario Marianelli, Atonement
Best Song: "Guaranteed", Into The Wild

TELEVISION
Best Dramatic TV Series: Mad Men
Best Actor, TV Drama: Jon Hamm, Mad Men,
Best Actress, TV Drama: Glenn Close, Damages
Best TV Series, Musical Or Comedy: Extras
Best Actor, TV Musical Or Comedy: David Duchovny, Californication
Best Actress, TV Musical Or Comedy: Tina Fey, 30 Rock
Best Mini-Series Or Motion Picture Made For TV: Longford
Best Actress, In A Miniseries Or A Motion Picture Made For TV: Queen Latifah, Life Support
Best Actor, In A Miniseries Or A Motion Picture Made For Television: Jim Broadbent, Longford
Best Supporting Actress, In A Series, Miniseries Or Motion Picture Made For TV: Samantha Morton, Longford
Best Supporting Actor, In A Series, Miniseries Or Motion Picture Made For Television: Jeremy Piven, Entourage
> Official site of the Golden Globes
> BBC News explain the WGA strike and report on the cancelled TV ceremony