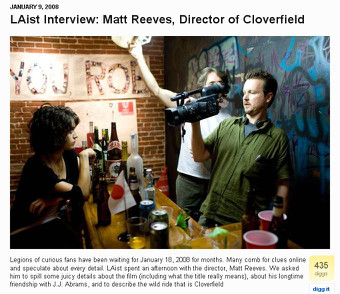 Matt Reeves, the director of Cloverfield, has given a lengthy interview to LAist about the film.
Produced by JJ Abrams, it is the eagerly anticipated film about a monster which attacks New York and has created a lot of buzz with its extensive viral campaign.
He discusses the early trailer that spooked people out:
When it comes to modern trailers, a lot of the way that they sell movies now is to give you the whole thing right up front. This was a throwback. We knew that it was going to be on Transformers if we make it in time. We thought that it would be really interesting.

Here will be this completely under-the-radar movie being previewed in front of a movie that they were already anticipating there'd be a huge audience. I think that the real reason there was all of that crazy reaction was that the trailer was so widely seen and so completely mysterious.

I think that people began to project themselves into the mystery to figure out what it was, and that created this whole sort of engagement with the viewers. Anytime you're confronted with a mystery, you immediately need to have answers, and we were just really lucky. We did not expect there to be this level of reaction.
He also explains where the film got its title and the connection with a YouTube video:
When we started the project there was going to be an announcement in the trades. In this case, they wanted to keep everything under wraps. So the movie was going to be made under this outside corporation that was basically a property of Paramount. That corporation had a name that I don't know the name of. I think Clover was the first part of it. Maybe it was Cloverdale.

When Drew [Goddard, LOST writer] was putting a name to the project, there was supposed to be a name for the project like there was for The Manhattan Project. So he said, "I am going to use that weird mysterious thing," and he misheard it. He didn't even understand that it wasn't Cloverfield, it was Cloverdale. Maybe that was because of the street by J.J.'s old office, but the truth is he just misunderstood it.
Check out the full interview here.
Cloverfield opens in the US on January 18th and in the UK on February 1st
> Official Cloverfield website
> That mysterious first trailer
> Find out more about the film at Wikipedia