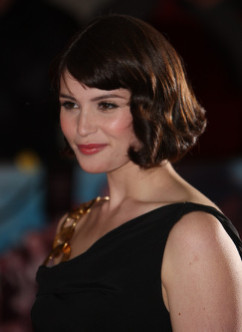 Although unconfirmed reports have been around for about a month now, it is now official that Gemma Arterton is the new Bond girl.
The Hollywood Reporter say:
British newcomer Gemma Arterton has been cast as the new Bond girl for the latest installment of the James Bond franchise, currently filming in London for Columbia Pictures and MGM, the film's production companies said.

Arterton will play "Fields" in the Marc Forster-directed movie, which has the working title of "Bond 22" and stars Daniel Craig as Agent 007.

Talk of Arterton's casting has been swirling around the blogosphere and in British tabloids since mid-December, but have remained unconfirmed by the producers.

On Friday, Eon Prods. in London and Santa Monica-based Danjaq Prods., as well as Arterton's agent, ICM in London, confirmed the casting.

Details of her character were not available, but a Danjaq rep said "it's a nice-sized role."
She can currently be seen in St Trinian's (in UK cinemas) and will be in Guy Ritchie's new film RockNRolla which is out later in the year.
I interviewed her recently (mostly about St Trinian's but also about her career to date too) and you can listen to that here.
Although plot details are vague, apparently it will pick up just after the end of Casino Royale and Bond will be out for revenge against the shadowy organisation that killed Vesper Lynd.
For more information on Bond 22 check out the Wikipedia entry – which is updated fairly regularly.
> Original Hollywood Reporter story on Gemma getting the role
> Gemma Arterton at the IMDb
> Various photos of her on Flickr
> An earlier report from Empire about this story
> Check out this interview I did with Bond composer David Arnold back in March (he discusses Bond 22 a little bit near the end)