It is that time of year again where studios start spending heavily in the trades and angling certain films for Oscar contention.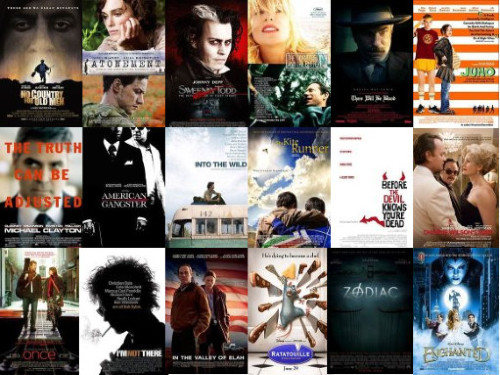 In truth the awards season really began months ago with certain films opening at major festivals like Cannes, Venice, Toronto and Telluride.
But now things are getting serious with the first batch of the end of year critics awards being dished out. Although the winners can and do vary, you will now start to see a pattern emerge of what films are likely to be competing at the Oscars in February.
The actual Oscar ballots go out on December 26th and polls close on January 12th, with the nominations offically announced on January 22nd and the final ceremony on February 28th.
There is still a lot of watching and voting to be done but here is my take on the early major contenders for the Oscars across the main categories and the other films that could make their mark in some way.

MAJOR CONTENDERS
No Country for Old Men
The Coen Brothers have returned to form with what is possibly their best ever film – a marvellous adaptation of Cormac McCarthy's 2005 novel about the fall out from a drug deal gone wrong. Josh Brolin, Javier Bardem, Tommy Lee Jones and Kelly MacDonald all give Oscar worthy performances, Roger Deakins' cinematography is stunning and the Coens themselves are firmly in the running for writing and directing nods.
Atonement
For a long time this has smelt like a bona fide Oscar front runner. Based on a clever and heart wrenching novel by Ian McEwan, it is well made by director Joe Wright, features a fine lead performance from James McAvoy and is the kind of emotionally involving period piece that appeals to Academy voters. Expect this to feature in a lot of categories including Best Picture.
Sweeney Todd
For a while this dark musical about the demon barber of Fleet Street seemed like the kind of film designed to put off voters, but it has not only gone down well in early screenings but created the kind of buzz necessary for Oscar recognition. Tim Burton and Johnny Depp are already looking good for Best Director and Actor slots.
The Diving Bell and the Butterfly
Whilst it had a mixed critical reception in Cannes director Julian Schnabel's true life tale of a man paralysed by a stroke could be the dark horse of the race. Not only does the central character have a disability (a tried and tested formula for Oscar success) but it is a beautifully crafted and moving story.
There Will Be Blood
There might be mutterings about the dark heart of Paul Thomas Anderson's latest period drama about the early days of the oil boom but there is no doubting the sheer quality on show here. Daniel Day Lewis gives a truly extraordinary performance as the ruthless and driven oil man and the contributions from writer-director Anderson and cinematographer Robert Elswit are likely to be recognised with nominations.
Michael Clayton
Although Warner Bros went wide with this film too early in the US (leading to less than expected box office) my feeling is that it has long legs for the awards season. Brilliantly written and directed by Tony Gilroy it also features some terrific performances from George Clooney, Tilda Swinton and Tom Wilkinson. A smart and highly satisfying 70s-style drama it is one of those films that may well convert people when they actually get to see it.
American Gangster
Although it wasn't quite the modern masterpiece it might have been Ridley Scott's 70s crime drama did feature two highly engaging lead performances from Denzel Washington and Russell Crowe which could well see both be nominated. Scott could well get nominated and the film might get some recognition in the technical categories but don't be surprised if its over taken by other films.
Into the Wild
Sean Penn's tale of a disaffected young man travelling around the US might not tick all the Academy boxes but Emile Hirsch and Hal Holbrook give two eye opening performances in a beautifully crafted drama. Eric Gautier's stunning cinematography is also worth looking out for, plus Sean Penn as director could be a strong contender – actors turned director often do well in that category (e.g. Robert Redford, Kevin Costner and Mel Gibson) as actors form the largest voting block of the Academy.

THE BEST OF THE REST
The Kite Runner
Although director Marc Forster has crafted a moving and involving drama from Khalid Hosseini's novel, I think it lacks the raw dramatic power to be a fully fledged Oscar heavyweight. Plus, the controversy over one of the child actors in it won't help either.
Before The Devil Knows You're Dead
Veteran director Sidney Lumet has rolled back the years with this fine drama about a family torn apart by a bungled robbery. Philip Seymour Hoffman, Marisa Tomei and Albert Finney all give fine performances but the darkness of the material may be a handicap for some voters.
Once
Director John Carney mixed The Commitments with Brief Encounter to achieve the low budget success story of the year. It will almost certainly get a nomination for Best Song (Falling Slowly) and could be a strong underdog that voters fall for in a couple of categories.
I'm Not There
Although the quirky nature of this one probably rules it out of the main categories as it invloves various actors such as Richard Gere, Christian Bale and Cate Blanchett playing Bob Dylan at different stages of his career. However, Blanchett would appear to be a lock for Best Supporting Actress.
In the Valley of Elah
On paper this sounded like a strong front runner with Paul Haggis directing a stellar cast (Tommy Lee Jones, Charlize Theron and Susan Sarandon) in a drama about the effects of the Iraq War. However, it now looks like Tommy Lee Jones or maybe even Haggis as screenwriter have a chance to be nominated here.
Juno
Currently there's a lot of heat on this comedy/drama about a pregnant teenager. Having just achieved a great opening in limited release and raves since its debut at Telluride, it is one to look out for but although it is smart and very funny, I think Ellen Page is the only certainty here with a Best Actress nomination likely for her lead performance.
Charlie Wilson's War
Many were tipping this as a strong contender a few months back and with Tom Hanks and Julia Roberts in the lead roles and Mike Nichols directing from an Aaron Sorkin script, why not? Whilst it is a bit early to rule it out it seems only Philip Seymour Hoffman in a supporting role will be a likely contender for this one.
Enchanted
Although this clever take on the traditional Disney fantasy won't be a contender in most of the major categories Amy Adams must stand a very good shot at Best Actress for her sparkling performance as a fairytale princess stuck in modern day New York.
Zodiac
In years to come people will (or at least should) look back on this film and wonder why it wasn't showered with awards. But then Oscar history is filled with overlooked pictures. This was a stunning recreation of the Zodiac killings in San Francisco during the 60s and 70s and is arguably David Fincher's finest work, complete with terrific performances from Mark Ruffalo and Robert Downey Jnr. It deserves so much more but may only get a couple of nominations.
Ratatouille
Pixar's wonderful tale of a rat in a French kitchen would appear to be the main candidate for Best Animated film although competition is likely from Persepolis and Beowulf.
I'm sure there will be more twists and turns as the awards season goes forward – if you have any thoughts just leave them in the comments section below.
> Check out the official Academy Awards site
> Find out more about previous Oscar seasons at Wikipedia
> Get the latest awards buzz at Awards Daily, In Contention, The Envelope and Movie City News