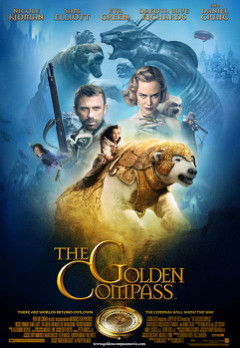 This week sees the release of eagerly anticipated fantasy film The Golden Compass.
It is based on the first book in Philip Pullman's fantasy trilogy about a young girl's coming of age in a parallel universe.
The central character is a young girl named Lyra Belacqua (Dakota Blue Richards) who has grown up in the world of an Oxford college in a parallell universe.
Though similar in many ways to our world the most striking difference is that everyone has a dæmon – an animal that co-exists with them and follows them around.
Lyra and her dæmon Pantalaimon (voiced by Freddie Highmore) find out about the existence of "Dust", a substance of great interest to her uncle Lord Asriel (Daniel Craig), the enigmatic Marisa Coulter (Nicole Kidman) and the ruling power known as The Magisterium.
When a friend of hers is kidnapped, Lyra journeys to the North in order to find him where she encounters a variety of characters including a witch (Eva Green), an aeronaut (Sam Eliott) and an armoured bear (voiced by Ian McKellen).
Listen to our review here:
[audio:http://www.filmdetail.com/podcast/get.php?fla=podcast-2007-12-05-18459.mp3]
Download and subscribe to the review podcast via iTunes by clicking on the image below:
> Download this review as an MP3 file
> Get local showtimes for your area via Google Movies
> Check out other reviews of these films at Metacritic
> Bridge To The Stars – An extensive fansite for the original books
> Watch the first 5 minutes of The Golden Compass at Yahoo Movies
> Official blog for the The Golden Compass
> Find out more about the His Dark Materials trilogy of books at Wikipedia
> Philip Pullman writes about the film in the Sunday Times