This week we review The Assassination of Jesse James by the Coward Robert Ford, Hitman and The Nines.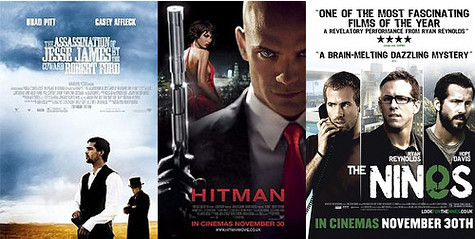 The Assassination Of Jesse James by the Coward Robert Ford – An unusual look at the iconic western outlaw Jesse James with Brad Pitt in the lead role and Casey Affleck as his assassin Robert Ford. Taking a slow and unconventional approach, it examines the myth of James and details the final phase of his life where he tries to evade justice and retreats to his trusted inner circle. Directed by Andrew Dominik (who made Chopper in 2000) and shot by Roger Deakins.
Hitman – Based on the popular computer game franchise this sees Timothy Olyphant (last seen as the villain in Die Hard 4) play Agent 47, a secret assassin who performs hits for a shadowy organisation. Only after a job in Russia he is double crossed and has to find out why with the help of a prostitute (Olga Kurylenko), whilst having to deal with an Interpol agent (Dougray Scott) on his tail. Directed by Xavier Gens.
The Nines – Writer and director John August has made a film split into three sections with Ryan Reynolds, Hope Davis and Melissa McCarthy in the lead roles. The first is about an actor going through rehab in his own house, the second features a reality show about an actual TV show and the third is about a video game designer whose car breaks down on an isolated road.
Listen to the review podcast here:
[audio:http://www.filmdetail.com/podcast/get.php?fla=podcast-2007-11-30-86823.mp3]
Download and subscribe to the review podcast via iTunes by clicking on the image below:
> Download this review as an MP3 file
> Get local showtimes for your area via Google Movies
> Check out other reviews of these films at Metacritic