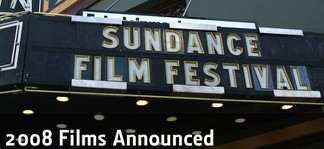 The line up for the Sundance Film Festival has been announced.
Todd McCarthy of Variety has printed a detailed breakdown of what's on and the official press release can be found here.
The director of the festival, Geoffrey Gilmore says:
The broad range of cinematic expression in this year's Festival is found not simply in terms of the volume of submissions or its demographics but in the variety of types of filmmakers and the issues they explore.

This year we are seeing a convergence of storytelling and art that truly illustrates the spectrum of what is possible in film.
John Cooper, the Director of Programming, also said:
The creativity, urgency and passion of this year's filmmakers are palpable, proving that independent filmmaking is alive and well not only in the U.S. but throughout the world.

The amount of high-quality work submitted from a diverse range of filmmakers made our jobs difficult this year. The Competition program is funny, spirited, human, and at times uncharacteristically optimistic about the world we live in.
There's quite a few interesting films set to premiere there but here are some that caught my eye:
In Bruges – The opening film is about two hit men (played by Colin Farrell and Brendan Gleeson) who end up hiding out in the Belgian town of Bruges. Martin McDonagh – who won an Oscar for his short film Six Shooter – directs.
Choke — An adaptation of Chuck Palahniuk's novel directed by Clark Gregg. It purports to be about about mother and son relationship and "the dark side of historical theme parks" with Sam Rockwell, Anjelica Huston and Kelly MacDonald.
The Mysteries of Pittsburgh — Based on Michael Chabon's novel (the man who wrote Wonder Boys and The Amazing Adventures of Kavalier and Clay), it explores the summer of a recent college graduate in Pittsburgh. Jon Foster, Peter Sarsgaard, and Sienna Miller star. Rawson Marshall Thurber directs.
Sugar – Anna Boden and Ryan Fleck had a startling debut with Half Nelson last year return with this tale of a Dominican baseball player named Miguel "Sugar" Santos, who was recruited from his native country to play in the U.S. minor leagues.
Roman Polanski: Wanted and Desired – A documentary about the Polish director by Marina Zenovich which covers examines the scandals and tragedies which led to him fleeing the United States.
Gonzo: The Life and Work of Dr Hunter S Thompson – Alex Gibney directs this documentary about the late writer which will apparently explore his drinking, drug taking and writing, focusing on the years 1965 to 1975. Featuring clips of rare home movies, audiotapes and passages from unpublished manuscripts it looks like a treat for fans of the late writer.
The festival runs from the 17th to the 27th of January in Park City, Utah.
> Official website for the Festival
> Find out more about the Sundance Film Festival at Wikipedia
> Check out the Sundance YouTube channel
> Listen to Anna Boden and Ryan Fleck discuss Sugar back in April when I spoke to them about Half Nelson
> Listen to Peter Carlton of Film4 talk about In Bruges when I interviewed him back in March
> Listen to our interview with John Carney who directed Once – one of the big hits of last year's festival