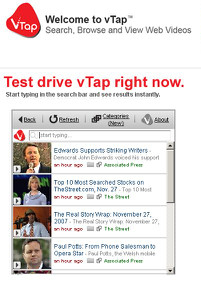 Have you ever wanted to watch videos on your mobile phone?
If you are lucky enough to have an iPhone then you will probably have been impressed by their impressive YouTube application, but what about other phones and video sites?
One site I came across recently was vTap – which allows you to search different video sites and then watch them on your mobile.
Previously I'd used the mobile version of YouTube but it was a little frustrating as it only featured a limited amount of videos.
After trying vTap on my Nokia 6120 Classic I was very impressed – not only did it work but you have (as far as I could tell) the full library of YouTube and other video sites.
Not only do you have access to more videos, but on a 3G connection the download time is quick and playback is pretty smooth.
Another nice feature is that you can select the download speed depending on your connection and even just get the audio of the video, if you so wish.
Check out their website for a list of compatible phones or just punch http://m.vtap.com into your mobile browser to check out the site.
The company behind vTap is called Veveo and here is a video of co-founder and CEO Murali Aravamudan explaining the idea behind the site:
[youtube]http://www.youtube.com/watch?v=N8fkiprQDcg[/youtube]
It is worth noting that video on your mobile can be expensive if you don't have an unlimited data plan (which I do), so make sure you check this before giving the site some heavy use.
> Official vTap site
> Om Malick writes about Veveo (the company behind VTap) at NewTeeVee
> Find out more about the vTap application for the iPhone