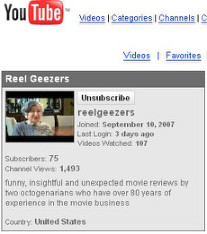 Some of the laziest criticisms of sites like YouTube are that it is full of idiotic videos of people's cats and kids messing around.
Given the sheer amount of videos on the site, there is bound to be a lot of rubbish. But there is also some great lo-fi stuff worth checking out.
The web in general is a rich source for movie reviews (especially review hubs like Metacritic and Rotten Tomatoes) but a couple of reviewers who caught my eye on YouTube recently were The Reel Geezers.
It is a video review posted on the site by veteran screenwriter Lorenzo Semple Jnr (who wrote The Parallax View and Papillion) and producer Marcia Nasatir (whose credits include The Big Chill and Hamburger Hill) and produced by Heather Finnegan.
What I like about this kind of content is that you have two very experienced people doing something very simple – in this case, talking about recent movies they've seen.
Whilst they often disagree both have interesting takes on current cinema releases. Plus, it is also funny to see them squabble about things like the use of the F-word in Superbad.
Check out their review of Michael Clayton here:
Not only do I agree with both of them but they bring up some interesting points: how it resembles a smart 70s thriller like Three Days of the Condor (which Lorenzo wrote and Sydney Pollack directed); how Warner Brothers messed up up the marketing and distribution; why George Clooney is particularly good in it; why the opening scene is brilliant; the refreshing lack (yes, lack) of exposition; the satisfying ending and the simple fact that (in Lorenzo's words) you should "go see it".
When it comes to a choice between some slickly produced red carpet puff piece on E! or something like this, I'll choose this every time.
> Check out The Reel Geezers on YouTube
> Lorenzo Semple Jnr and Marcia Nasatir at the IMDb
> Check out the trailer for Michael Clayton
> Read more reviews of Michael Clayton at Metacritic
> An AICN interview with Wes Anderson and Jason Schwarztman where they mention The Reel Geezers review of The Darjeeling Limited
[Link via Anne Thompson]