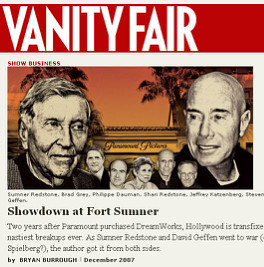 Bryan Burrough has written a long piece in Vanity Fair about the feud between DreamWorks and Viacom.
DreamWorks SKG (to give it its full title) was the studio founded by Steven Spielberg, Jeffrey Katzenberg and David Geffen back in the mid-90s.
Although they had a string of high profile hits (Gladiator, Saving Private Ryan, American Beauty) by 2005 they realised that functioning as a stand alone studio was no longer financially viable.
In December 2005, they were bought by Viacom (who own Paramount) for a deal reported to be around $1.6 billion.
But the marriage between the two organisations would appear to be less than happy with disputes over who gets the credit for certain films, talent relations, leaks to the press, disrespect shown to Steven Spielberg and the premiere of Dreamgirls, amongst other things.
One Paramount source is quoted as saying:
"I tell you, they're testing our patience.… I'm telling you, we're about fed up with this stuff. All their movies, Indiana Jones, everything in their library and everything in their pipeline, you know what? It's all ours! Tough! They want to leave? They want to go start over? Fine. Leave! We have done everything we can to make them feel special. Everything! And nothing is enough!"
And someone from DreamWorks says:
"How could they call Steven Spielberg insignificant? They must be out of their minds!"
Check out the full article here.