This week, we take a look at three of the big cinema releases out today in the UK.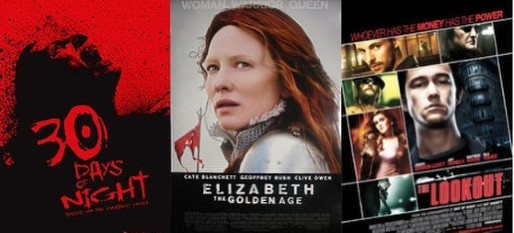 30 Days Of Night is a vampire film from director David Slade (who made Hard Candy) with an interesting premise involving a town in Alaska that is dark for 30 days of the year.
When a bunch of vampires turn up they realise they are really in their element as they can feed on the townsfolk non-stop for a month. A local sheriff (Josh Hartnett) and some plucky townsfolk try to survive the mayhem that ensues.
Elizabeth: The Golden Age is the sequel to the 1998 film about Queen Elizabeth I (Cate Blanchett) who now finds her rule openly challenged by the Spanish King Philip II, who is determined to restore England to Catholicism.
Unable and unwilling to pursue her love for explorer Walter Raleigh (Clive Owen), she lives vicariously through her lady-in-waiting, Bess (Abbie Cornish).
The Lookout is an intriguing and unconventional thriller about a young man (Joseph Gordon-Levitt) who's life is wrecked in a car accident.
He then tries to maintain a normal life working as a janitor in a bank, but gets involved in a heist scheme. Written and directed by Scott Frank, it co-stars Jeff Daniels, Isla Fisher and Carla Gugino.
Listen to this week's reviews by clicking below:
[audio:http://www.filmdetail.com/podcast/get.php?fla=podcast-2007-11-02-17802.mp3]
Download and subscribe to the review podcast via iTunes by clicking on the image below:
> Download this review as an MP3 file
> Get the local showtimes via Google Movies
> Check out other reviews of these films at Metacritic