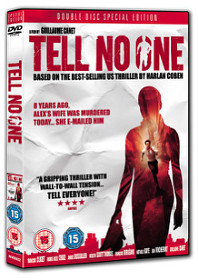 The marvellous thriller Tell No One is out on DVD this week and we have 5 copies to give away.
An adaptation of US crime writer Harlan Coben's multi-million best-selling novel, the film portrays one man's frantic race against time when he begins to believe his wife, murdered several years before, may still be alive.
Pediatric Alex Beck (François Cluzet), is still devastated by the savage murder of his wife Margot (Marie-Josée Croze) when – years later – he receives an anonymous email. When he clicks on the link he sees a woman's face standing in a crowd and being filmed in real time – Margot's face. Is she still alive? And why does she instruct him to 'tell no one'?
At the same time the unearthing of two bodies near the site where Margot was discovered leads to the police to reopen their case. Alex is number one suspect – and eight years down the line the police are determined that he will take the rap for murder.
Directed by young French actor/director Guillaume Canet, who starred opposite Leonardo DiCaprio in The Beach, it stars Kristin Scott Thomas alongside a stellar cast of French actors including Nathalie Baye, Jean Rochefort and François Cluzet.
We have 5 DVDs to give away courtesy of Revolver Home Entertainment and one lucky winner will also get a poster signed by the director, plus a copy of the novel and soundtrack.
To stand a chance of winning just email us your contact details, including your postal address, to competition@filmdetail.com or via the contact page.
In the meantime check out an interview I did with Guillaume back in June by clicking below:
[audio:http://www.filmdetail.com/podcast/get.php?fla=podcast-2007-06-14-86754.mp3]
> Download this interview as an MP3 file (just right click, save as and rename)
> Check out the official UK website for Tell No One
> Check out Guillaume's official site