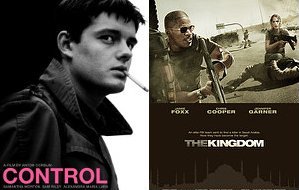 On this week's review podcast we take a look at two very different films – one is about Ian Curtis and Joy Division, the other a thriller set in Saudi Arabia.
Control is a biopic of Ian Curtis – the lead singer of Joy Division who died in 1980 aged just 23.
Directed by Anton Corbijn, the film explores the early years of Curtis, the formation of the band, their live and studio performances, his battle with epilepsy and the emotional turmoil that led to his untimely death. Sam Riley stars in the lead role and Samantha Morton plays his wife Debbie.
The Kingdom is a contemporary thriller that follows an FBI team who investigate a bombing of a US compound in Riyadh, Saudi Arabia.
Jamie Foxx leads the group that includes Jennifer Garner, Chris Cooper and Jason Bateman as they follow the trail of a terrorist with the help of a local officer (Ashraf Barhom). It is directed by Peter Berg and produced by Michael Mann.
We also take a brief look at the other releases this week which include And When Did You Last See Your Father?, Daywatch and The Heartbreak Kid.
Listen to this weeks reviews here:
[audio:http://www.filmdetail.com/podcast/get.php?fla=podcast-2007-10-05-16648.mp3]
Download and subscribe to the review podcast via iTunes by clicking on the image below:
> Download this review as an MP3 file
> Get the local showtimes via Google Movies
> Check out other reviews of these films at Metacritic