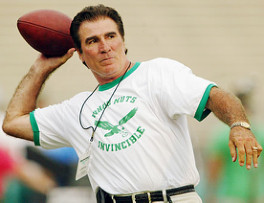 Invincible is the real life tale of Vince Papale, a former American football player who played three seasons with the Philadelphia Eagles.
What makes his story interesting is that he made his NFL debut at the late age of 30.
Despite being an accomplished athlete and playing in the short lived World Football League he was working in a bar before getting a shot at trying out for the Eagles.
He went on to play three seasons in the NFL and his story was made into a film last year with Mark Wahlberg portraying him.
I spoke on the phone to Vince this week about his story and the release of the film on DVD.
Listen to the interview here:
[audio:http://www.filmdetail.com/podcast/get.php?fla=podcast-2007-10-02-94899.mp3]
To subscribe to the Interview Podcast via iTunes just click the image below:

Invincible is out now on DVD from Buena Vista Home Entertainment
> Buy Invincible on DVD from Amazon UK
> Find out more about Vince Papale at his official site
> Check out the official site for the film