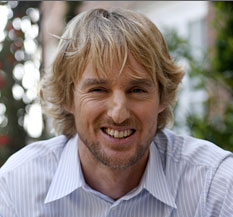 Since reading about Owen Wilson reported suicide  attempt yesterday morning in Variety I've been reluctant to post anything.
Gossip sites like Perez Hilton, TMZ and Defamer cover that beat and unless stories like this have a big impact on a particular movie or the industry as a whole I'm not really keen to wade in.
But I interviewed him 2 years ago when he was promoting Wedding Crashers and have been thinking about him and his troubles.
Like many actors I spoken to down the years he was courteous and polite, but at the same time I would never claim to have any insight into someone's personality from such a brief and transitory meeting.
Reading different news articles about his problems has been a dispiriting exercise as pundits weigh in on the issues surrounding this sad event. The big question looming over many seems to be 'why would a rich movie star do something like this'?
One writer who has grappled intelligently about this whole affair is Matt Zoeller Sietz and he has written a thoughtful piece over at The House Next Door:
The three words that spring to mind when I think of Owen Wilson are "generosity of spirit" — a phrase that's being returned in kind by strangers as Wilson recovers from what has been described as a suicide attempt.

Wilson and I are the same age, 38. We're both from Dallas, and although we didn't cross paths until our mid-20s, we glancingly share enough geographical flashpoints that I'm surprised it didn't happen sooner.

Wilson and his friend and filmmaking partner, Wes Anderson, shot part of a black-and-white short film prototype for their first feature, Bottle Rocket, in Greenway Parks, a five minute walk from my house.

We both frequented the Inwood Theater, the clubs in Deep Ellum, the Bookstop on Mockingbird Lane (where Anderson shot the heist in Bottle Rocket) and the Cosmic Cup, a coffee shop and arts hangout owned by Indian-born actor, magician and juggler Kumar Pallana, who had small roles in Bottle Rocket, Rushmore and The Royal Tenenbaums. 
If you only read one more article on this story then make it this one.
Check out the full article here.