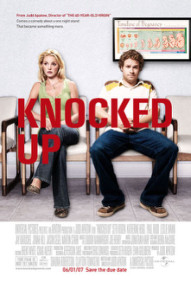 This week on the review we take a look at Knocked Up, the latest comedy from writer-director Judd Apatow.
Since the huge success of The 40 Year Old Virgin in 2005, Apatow has become one of the hottest comedy properties in Hollywood, producing Talledega Nights and the forthcoming Superbad.
Knocked Up is the story of a slacker (Seth Rogen) who gets a glamorous TV reporter (Katherine Heigl) pregnant after a one night stand. Despite their differences they decide to have the baby and hilarity ensues as they struggle to cope with one another.
Listen to our review here:
[audio:http://www.filmdetail.com/podcast/get.php?fla=podcast-2007-08-24-95329.mp3]
Subscribe to the review podcast via iTunes:

Knocked Up is out at UK cinemas from today
> Download this review as an MP3 file
> Get the local showtimes for Knocked Up via Google Movies
> Check out reviews for Knocked Up at Metacritic
> Visit the official UK site for Knocked Up