Karen Allen is reprising her role as Marian Ravenwood, the feisty female lead from Raiders of the Lost Ark.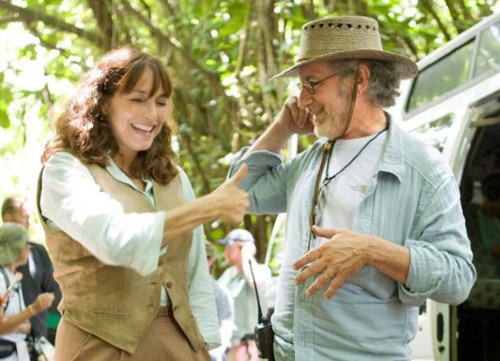 The news was announced at Comic Con that she's back for the forth Indy movie:
Actress Karen Allen is joining the cast of the upcoming "Indiana Jones" movie, reprising her role as spirited Marion Ravenwood, it was announced today during Comic-Con International in San Diego.

The new movie is in production under the direction of Steven Spielberg, who is pictured here with Allen during a break in shooting in Hawaii.

The upcoming "Indiana Jones" adventure is a Lucasfilm Ltd. production and is being distributed by Paramount Pictures.

Frank Marshall returns as producer, with Kathleen Kennedy joining George Lucas as executive producer.
Looking back on it, Allen's character in the first Indy movies was one of the best mainstream roles for a woman in the early 1980s.
Plus, she brought a a zest and presence to film that was missed in The Temple of Doom and The Last Crusade.
Sadly her career didn't really take off in the way it should have done after Raiders.
She was good in Starman but for most of the 80s and 90s struggled to find major lead roles, which was a shame as her timing and natural charm was a big part of why the first Indy film was such a hit.
Production continues on Indy 4 and it is still scheduled for a worldwide release on May 22, 2008.
> Official Indiana Jones site
> IMDb entry for Karen Allen
(Photo by David Jones – Courtesy of IndianaJones.com)