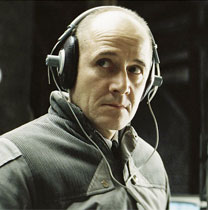 Really sad news to report – the German actor Ulrich Mühe has died aged 54.
BBC News reports:
German actor Ulrich Muehe, the star of Oscar-winning film The Lives of Others, has died at the age of 54.
A well-known TV and theatre actor in his homeland, he had been receiving treatment for stomach cancer.

Muehe's performance as a Stasi agent who secretly protects a dissident playwright won him a best actor prize at the European Film Awards in 2006.

His other films included 1997's Funny Games, in which he appeared with his wife, actress Susanne Lothar.

Muehe died at his home in Walbeck in the state of Saxony-Anhalt on Sunday.

On the same day a German newspaper published an interview with the actor in which he confirmed his illness.
The Lives of Others is one of the best films to come out in the last few years and Muhe gives a remarkable performance.
If you missed it at cinemas it is out on DVD in the UK on September 17th.
> More on the story at BBC News
> Ulrich Muhe at the IMDb
> Official UK site for The Lives of Others
> Reviews for The Lives of Others at Metacritic