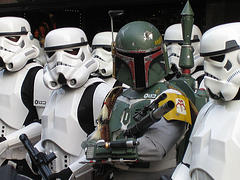 This week Star Wars fans will be heading to the ExCel Exhibition Centre in London for Celebration Europe.
It only the fifth official convention of this type and the first to be held outside of Europe.
This week I spoke to Jeremy Bulloch (who played Boba Fett in The Empire Strikes Back and Return of the Jedi) and Steve Sansweet, head of content and fan relations at Lucasfilm.
We discussed what's going on at Celebration Europe this weekend and the enduring appeal of the Star Wars films.
Listen to the interview here:
[audio:http://www.filmdetail.com/podcast/get.php?fla=podcast-2007-07-12-75555.mp3]
To subscribe to the Interview Podcast via iTunes just click the image below:
> Download the interview as an MP3 file here
> For more details just go to the official website at celebrationeurope.com
> Buy tickets here
> Get directions to EcXel via Google Maps
> Find out more about Star Wars at Wikipedia