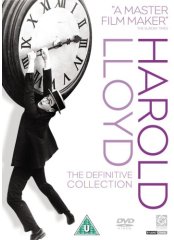 This week sees the release of Harold Lloyd: The Definitive Collection on DVD, a box set featuring wide range of Lloyd's most famous films.
Harold Lloyd is one of early cinemas most enduring icons alongside such greats as Charlie Chaplin and Buster Keaton.
He was one of the most prolific and successful comedians of the silent film era, making nearly 200 comedies between 1914 and 1947.
I recently spoke to his granddaughter Suzanne Lloyd about his career and enduring cinematic legacy.
Listen to the interview here:
[audio:http://www.filmdetail.com/podcast/get.php?fla=podcast-2007-07-06-10713.MP3]
Download this interview as a podcast via iTunes:
Harold Lloyd: The Definitive Collection is out on DVD in the UK from today.
> Download this interview as an MP3 file
> Buy Harold Lloyd The Definitive Collection on DVD from Amazon UK
> Find out more about Harold Lloyd at Wikipedia