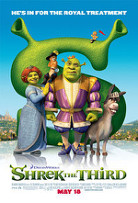 Shrek the Third (PG)
The big green Ogre (voiced by Mike Myers) returns in the third installment of the enormously popular animated series.
This film sees Shrek on a quest to find the true king of Far, Far Away with his trusted sidekicks Puss in Boots (Antonio Banderas) and Donkey (Eddie Murphy).
But alas, things go wrong as the sequel seems merely content to lazily repeat the same gags. There are still some witty moments but this is disappointing stuff given the quality of the first two films.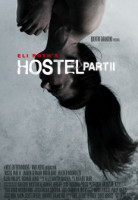 Hostel – Part II (18)
The sequel to 2005's enormously profitable low budget horror about backpackers getting tortured in Eastern Europe.
This one has almost exactly the same scenario only this time it is a group of women who are tortured in ever more grisly ways.
Directed by Eli Roth it is a sloppy affair – although the extreme sadism and violence will put off some viewers, the main problem is the lack of genuine scares.
Listen to the Review Podcast here:
[audio:http://www.filmdetail.com/podcast/get.php?fla=podcast-2007-06-29-38886.mp3]
To subscribe to The Review Podcast via iTunes just click the image below:
> Download this podcast as an MP3 file (just right click, save as and rename the file)
> Check out the local listings for these films at Google Movies