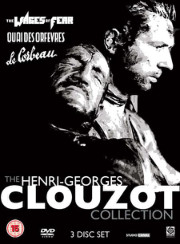 Henri-Georges Clouzot is one of the great masters of suspense and Optimum have a new box set out featuring three of his best films: Le Corbeau, Quai Des Orfevres and the enduring classic The Wages of Fear.
Seen by many as the "French Hitchcock", his reputation rose and fell throughout his 40 year career, but his best work still resonates today.
Clouzot began his film making career as a screenwriter, but it wasn't until the early 1940's that he made his mark as a director.
Le Corbeau (1943) is a noir thriller set in a small French town about a spate of poison pen letters. A dark and intriguing drama starring Pierre Fresnay and Ginette Leclerc, it was actually made under the occupation and thus attracted a good deal of controversy.
After the Allied liberation of France in 1944, it sparked a debate: was it a work of resistance or an act of collaboration with the Nazi's? Today it is a fascinating film precisely because of that dichotomy. However, the furore meant that Clouzot was suspended from film making for two years.
In 1947 he returned with Quai des Orfèvres, another thriller dealing with the dark side of France. A music hall singer (Suzy Delair) is willing to go to any lengths to further her career, much to the chagrin of her husband and manager Maurice (Bernard Blier).
When an admiring businessman is found dead, Maurice become the suspect in an investigation headed by Inspector Antoine (Louis Jouvet). A smart and clever drama, it won at the Venice Film Festival and helped reestablish his career. Released here on DVD for the first time, it has also been remastered.
However, it was with The Wages of Fear (1953) that Clouzot was propelled to international acclaim. Widely regarded as his masterpiece (along with Les Diaboliques) it is a magnificent drama filled with suspense. Based on the novel by Georges Arnaud, it deals with four drivers stuck in a dead end South American town.
When a US oil company offers them $2000 dollars a man to transport a deadly cargo of nitroglycerin across the country they sign up. What follows is a tense and brilliantly constructed thriller exploring the desperation of the drivers who take on the challenge: Yves Montand, Folco Lulli, Peter Van Eyck and Charles Vanel.
The first half of the film sets the scene with a slow but biting precision whilst the grueling second section detailing the drive itself is a full blooded attack on the audiences nervous system. A classic film of its era, it inspired a remake by William Freidkin in 1977 and more recently has even been referenced in modern TV shows such as Lost (a minor, unseen character called "Montand" is named after Yves Montand).
The Henri-George Clouzot Collection is out now from Optimum Home Entertainment
> Buy the DVD box set from Amazon UK
> Find out more about H.G. Clouzot at Wikipedia
> Check out the IMDb entry for H.G. Clouzot