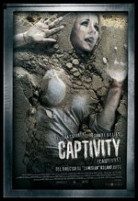 Captivity (18)
The career of New York model Jennifer Tree (Elisha Cuthbert) takes a downward turn when she is drugged whilst out at a club. After awaking she finds herself confined to a darkened cell and at the mercy of a ruthless killer.
The latest in a seemingly endless stream of horror films clogging up the multiplexes is a mix of Saw and Hostel in which the central character is tormented by mysterious mastermind. Directed by Roland Joffe (the director behind The Killing Fields and The Mission) it is a passable but derivative concoction.
Like too many horrors out recently it substitutes suspense with gratuitous gore and genuine scares with cheap sadism. Elisha Cuthbert does her best with the material but her character and the villain are too one dimensional for us to really care about their predicament.
After 2005's In Her Shoes director Curtis Hanson continues his retreat in to more mainstream films with this amiable but forgettable tale of a poker player (Eric Bana) struggling to cope with relationships and personal demons.
When he goes to Las Vegas for the World Championship, he meets a singer (Drew Barrymore) and she tries to help him resolve his problems. But matters are complicated with a match against his estranged father (Robert Duvall) .
Although the lead performances are agreeable enough this isn't in the same league as Hanson's best films (such as LA Confidential, Wonder Boys). Even more incredibly the screenplay is by Eric Roth (The Insider, Forrest Gump) so one can only hope they both get back to more challenging material sooner rather than later.
Listen to The Review Podcast here:
[audio:http://www.filmdetail.com/podcast/get.php?fla=podcast-2007-06-22-57557.mp3]
To subscribe to The Review Podcast via iTunes just click the image below:
> Download this podcast as an MP3 file (just right click, save as and rename the file)
> Check out the local listings for these films at Google Movies
> Listen to Elisha Cuthbert discuss Captivity on our Interview Podcast