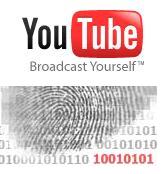 YouTube are testing a method of digital fingerprinting that will identify what clips are copyrighted.
Apparently, it was developed by Google in collaboration with Time Warner and Disney.
Kenneth Li and Eric Auchard of Reuters report:
The technology, developed by engineers at YouTube-owner Google Inc., will help content owners such as movie and TV studios identify videos uploaded to the site without the copyright owner's permission, legal, marketing and strategy executives at YouTube told Reuters in an interview on Monday.

The so-called video fingerprinting tools, which identify unique attributes in the video clips, will be available for testing in about a month, a YouTube executive said.

"The technology was built with the Disney's and Time Warner's in mind," Chris Maxcy, YouTube partner development director, said, adding that, since early this year, Google has been testing audio-fingerprinting tools with record labels.

These tools will be used to identify copyrighted material, after which media companies can decide if they would like to remove the material or keep it up, as part of a revenue-sharing deal with YouTube, which can sell advertising alongside it.

Once proven to work, the technology could be used to block the uploading of copyrighted clips, YouTube product manager David King said. It aims to make the tools widely available to any copyright owner later this year.
The big question here is: will this work? Obviously big media companies want to protect the content they fund and produce. But whether anyone likes it or not part of the appeal of YouTube is that it has become an unofficial archive for a lot of copyrighted material.
But its not like it has become The Pirate Bay. It is just that a generation of people are increasingly growing used to finding video on YouTube in a way that wasn't possible in the past. If YouTube filters this out digitally (and that is a big if) then won't that just lead to clone video sites picking up the slack?
With the notable exception of Disney, Paramount, Lionsgate and MGM's bold move in to the world of movies on iTunes, major media companies have been slow to pick up on how their content can be used. At worst, they have been guilty of sticking their head in the sand when it comes to how people want to view clips, trailers or download movies.
Maybe this attempt to work with Google (rather than slapping down lawsuits that will probably go nowhere) is a step in the right direction. But at the moment it sounds like a group of highly paid lawyers trying to force a genie back in to a bottle.
> See the full story at Reuters
> Mark Cuban at Blog Maverick with his take on this issue
> Mark also wrote a very interesting post back in October about the copyright issues behind Google's acquisition of YouTube