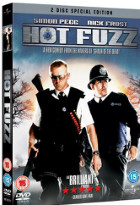 Hot Fuzz (15)
The second feature from the team behind Shaun of the Dead and is a smart and riotous spoof of cop movies.
Simon Pegg stars as a London cop who is so effective at his job he embarrases the Met and gets transferred to a sleepy Somerset village. There he finds it difficult to adjust to the local ways but soon finds himself drawn into a series of grisly murders.
A highly entertaining and surreal mix of Lethal Weapon and The Bill, this is made with a loving attention to detail and looks set to further the careers of director Edgar Wright and actor/writer Pegg.
> Buy Hot Fuzz on DVD from Amazon UK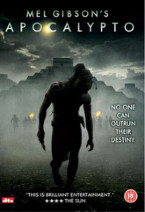 Apocalypto (18)
A bold and brutally violent drama set in the Yucatán Peninsula in Mexico before the Spanish conquest, it depicts one man's experience during the decline of the ancient Maya civilization.
It follows a young tribesman named Jaguar Paw (Rudy Youngblood) who is enslaved and taken to a city in order to be sacrificed before the gods.
Director Mel Gibson attracted all the wrong headlines last summer for his now infamous drunken anti-Semitic rant but this shows him to be a daring and accomplished director.
> Buy Apocalypto on DVD from Amazon UK
Listen to the DVD Review podcast here:
[audio:http://www.filmdetail.com/podcast/get.php?fla=podcast-2007-06-11-95362.mp3
]
To subscribe to The Review Podcast via iTunes just click the image below:
> Download this podcast as an MP3 file (just right click, save as and rename the file)