A Mighty Heart is the new film starring Angelina Jolie as Mariane Pearl, the widow of the late Daniel Pearl.
He was investigating a story about Islamic extremists in Pakistan for the Wall Street Journal and was murdered by militants in early 2002.
Jolie was in town for the press conference earlier today with the other lead actors and director Michael Winterbottom.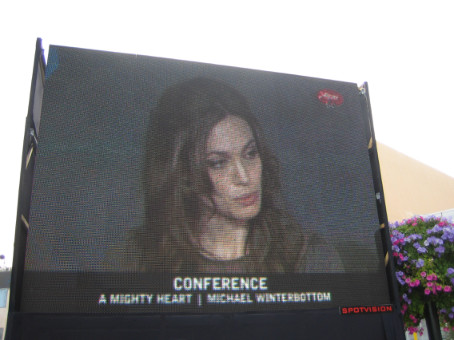 Brad Pitt was also there (he was a producer on the film) alongside Winterbottom, actor Dan Futterman (who plays Daniel Pearl) and  Indian actor Irfan Khan who also stars.
But perhaps the most interesting part of the press conference was  when a Bloomberg TV journalist asked Marianne Pearl for forgiveness.
After Daniel's death in 2002 he had probed her about whether she had seen the tape of her husband's death that was released on the internet by his killers.
Nacy Tartaglione-Vialatte of the LA Times reports:
The usual sorts of questions were asked of Pitt and Jolie; some to do with acting and producing or their feelings about the film and of course the inevitable "What do you think of Cannes?" (Pitt said, "It doesn't feel much different because we usually have a camera following us every day"), but no one was prepared when a Bloomberg TV journalist took the microphone.

"Hi, Mariane," he said, to which she replied with a nod. "We meet again," he added before going on to explain that he was in fact the reporter represented in the film who asks a controversial question. "What is in the film isn't exactly what I said and I wish someone more handsome could have played me, like Brad. But, I wanted to ask you Mariane, would you forgive me?"

A hush fell over the room before Pearl said, "I accept your apology."

The question had been, "Did you watch the tape?"
A Mighty Heart opens  in the US on June 22nd and in the UK on September 28th
> Official site for A Mighty Heart
> A Mighty Heart at the IMDb