Zodiac (15)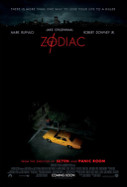 Director David Fincher finally returns after a 5 year absence with this terrific police procedural drama about the Zodiac killings that plagued San Francisco in the late 1960s.
Jake Gyllenhaal stars as Robert Graysmith, a cartoonist on the San Francisco Chronicle, which was the newspaper a serial killer sent cryptic cyphers based on the Zodiac.
Robert Downey Jnr plays the paper's reporter assigned to the case and Mark Ruffalo is the detective who has to solve it. Ambitious and meticulously filmed it is one of the best films to come out this year.
> Official website for Zodiac
> Find out showtimes for Zodiac via Google Movies
> Read other reviews of Zodiac at Metacritic

Black Snake Moan (18)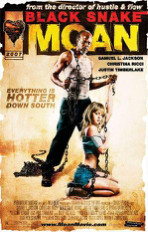 A strange drama about a nymphomaniac (Christina Ricci) in a Southern town who is heartbroken when her soldier boyfriend (Justin Timberlake) goes off on a tour of duty.
After sleeping around she ends up beaten up by the side of a road where a religious divorced man (Samuel L Jackson) takes her in. The only catch is that he chains her to the radiator in order to cure her of her wild sexual impulses.
Directed by Craig Brewer (who was behind last year's Hustle and Flow) this is a strange but engaging drama. It features Jackson's best role in quite some time with a character who is more rounded than you might think and Ricci manages to convey a heart beneath her crazy exterior.
> Official website for Black Snake Moan
> Read more reviews at Metacritic
> Get local showtimes in you local area via Google Movies

Joe Strummer: The Future is Unwritten (15)
An illuminating and hugely engaging documentary about the late Clash frontman Joe Strummer. Directed by Julien Temple (who was also behind the excellent 2001 Sex Pistols documentary The Filth and the Fury) it examines his early life, his time in the seminal rock band and his later 'wilderness' years.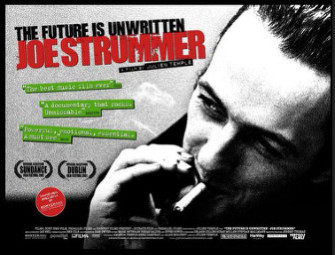 Many friends and luminaries such as Mick Jones, Bono, John Cusack and Jim Jarmusch are interviewed (usually around a campfire). A heartfelt and moving portrait, it is essential viewing for music fans. For those who aren't, it is still well worth a look.
> Official website for Joe Strummer: The Future is Unwritten
> Get local showtimes via Google Movies
Listen to The Cinema Review podcast here:
[audio:http://www.filmdetail.com/podcast/get.php?fla=podcast-2007-05-18-94570.mp3]
> Subscribe to our Review Podcast via iTunes
> Download this podcast as an MP3 file (just right click, save as and rename the file)