Sorry for the delay in posting this, but in case you hadn't heard Grindhouse is going to be split in two for UK audiences.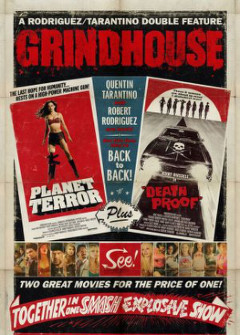 The plan is to release Quentin Tarantino's Death Proof in September and then Robert Rodriguez's Planet Terror at some point in the future.
Here is the official press release from the film's UK distributor, Momentum Pictures:
Tarantino's Death Proof will be released via Momentum Pictures/Dimension Films on September 21 with Robert Rodriguez's Planet Terror released at a later date to be confirmed shortly.

Death Proof will screen In Competition at this year's Cannes Film Festival, May 16-27 2007 continuing the festival's long and successful collaboration with the filmmaker whose 1994 movie Pulp Fiction won the coveted Palme D'Or.

Tarantino's Death Proof is a white knuckle ride behind the wheel of a psycho serial killer's roving, revving, racing death machine.

Rodriguez's Planet Terror is a heart-pounding trip to a town ravaged by a mysterious plague.

Inspired by the unique distribution of independent horror classics of the sixties and seventies, these are two shockingly bold features replete with fake trailers, missing reels and plenty of exploitative mayhem.

Rodriguez and Tarantino set out to make two very different, very complete movies which will be distributed separately internationally where the culture of grindhouses grinding out movies back to back is not familiar.

Harvey Weinstein stated, "We are very proud of "Grindhouse," which earned overwhelming rave reviews for its audaciousness and boldness. Based on US audience's positive reactions to Quentin Tarantino's 'Death Proof' and Robert Rodriguez's 'Planet Terror' combined with their resistance to the three-hour running time, we've revised our UK release plans to allow audiences the chance to see the films separately, like they will be shown in all international territories. We are really excited about launching the new version of 'Death Proof' in Cannes and about the international release for both movies."
Harvey and Bob Weinstein were clearly devastated by Grindhouse's disappointing opening in the US, especially after all the great buzz and reviews it got. But September feels a little late – won't it already be out on Region 1 DVD by then?
> Official site for Grindhouse
> Reviews for Grindhouse at Metacritic