A sharply observed drama about an unlikely friendship is a remarkably assured piece featuring two superb lead performances.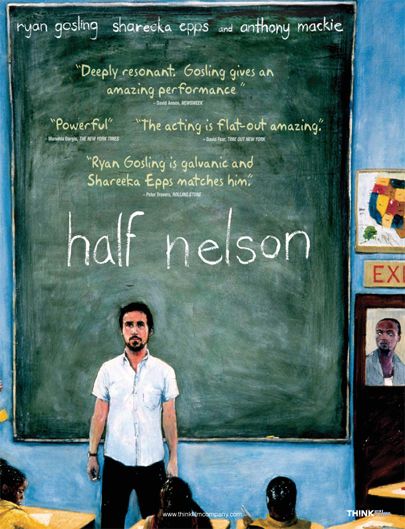 When Dan Dunne (Ryan Gosling) an idealistic teacher at an inner-city high school is caught smoking crack by one of his pupils named Drey (Shareeka Epps), they form an unexpected bond that highlights the challenges each face in their lives.
By day Dan is a teacher who likes to inspire his students with his theories about history, whilst by night he indulges in booze and drugs. Drey, meanwhile has her own problems. A typical latchkey kid, she has a brother in jail for drug dealing and one of his associates, Frank (Anthony Mackie), seems keen for her to join the trade.
What is interesting about Half Nelson is that it skilfully avoids the cliches that often afflict films set in a school. Director Ryan Fleck and his co-screenwriter Anna Boden have crafted an subtle but often witty picture that manages to cover a lot of intellectual and emotional ground whilst never slipping in to easy sentimentality or pretentious navel gazing.
The characters are beautifully drawn as their qualities are often juxtaposed against with their more obvious flaws and the performances that bring them to life are terrific. Gosling has rightly received a lot of plaudits for his portrayal of a disillusioned liberal who is struggling to cope with his life, but Epps also deserves equal praise for her unaffected but captivating turn.
The title alludes to a suffocating wrestling move (as well as a great Miles Davis track) and as the story progresses both Dan and Drey have to deal with their own problems. The fact that the film ends up being inspirational and deeply engaging whilst offering no easy conclusions is a tribute to the skill of all those involved in bringing it to the screen.
> Check out the official website
> Read more reviews of Half Nelson at Metacritic
> IMDb entry for Half Nelson
> Get show times for your local cinema
> Listen to Ryan Fleck and Anna Boden discuss the film in the FILMdetail Interview