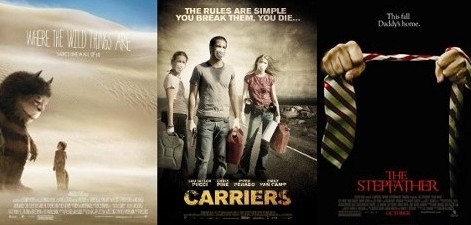 [ad]
NATIONAL RELEASES
Where The Wild Things Are (Warner Bros.): Maurice Sendak's 1963 children's book has found its way to the screen and the result is an adaptation of rare depth and feeling. Director Spike Jonze has crafted an interesting take on the material which sees a young boy (Max Records) venture to a magical land where he is anointed king by a group of strange creatures (voiced by James Gandolfini, Lauren Ambrose, Chris Cooper and Paul Dano).
Given the love for the book Warner Bros will be expecting some decent box office action before Avatar hits cinemas a week from now. Read my full thoughts on the film here. [Nationwide / PG]
Carriers (Paramount): Horror about four friends fleeing a viral pandemic who discover they are more dangerous than the virus.
Despite starring Chris Pine (recently seen as Kirk in the Star Trek reboot) the fumes emanating from this aren't good given that its been on the shelf for two years. [Nationwide / 15]
The Stepfather (Sony Pictures): A remake of the 1987 film about a man (Penn Badgley) who returns home from military school to find his mother Susan (Sela Ward), happily in love with a man known as David Harris (Dylan Walsh) who isn't what he seems.
Given the brutal reviews and lack of buzz the omens don't look good for this one. [Nationwide  / 15]
[ad]
LIMITED RELEASE
The Red Shoes (Park Circus): A re-release for the classic Michael Powell and Emeric Pressburger film about a young ballerina (Moira Shearer) who joins an established ballet company and becomes the lead dancer in a new ballet called The Red Shoes, itself based on the fairy tale, "The Red Shoes" by Hans Christian Andersen. The music by Brian Easdale and cinematography by Jack Cardiff are both sublime. [Selected Key Cities]
Unmade Beds (Soda Pictures): Director Alexis Dos Santos' second feature is a lyrical tale of two solitary expats (Fernando Tielve and Deborah Francois) crossing paths in the cosmopolitan art-rock milieu of a sprawling East London squat. [Selected Cinemas / [15]
> Get local cinema show times for your area via Google Movies
> UK cinema releases for December 2009
> UK DVD & Blu-ray picks for this week including Inglourious Basterds, Mid-August Lunch and The Hangover (W/C Monday 7th December 2009)