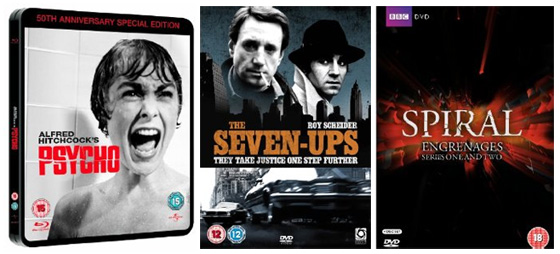 [ad]
DVD PICKS
Psycho (Universal Pictures): Alfred Hitchcock's classic 1960 film is one of the most significant Blu-ray releases of the year. The tale of a woman on the run (Janet Leigh) who stays at a lonely motel run by a man (Anthony Perkins) with some serious parental issues remains a landmark in cinema history.
The groundbreaking depictions of sexuality and violence might seem tame by today's standards but helped shape what could be shown on screen and arguably paved the way for the modern horror genre.
Categorizing the film is still tricky. It is a thriller? A horror? A mystery? The real answer is probably a combination of all three, but certainly it built upon Hitchcock's reputation as the master of suspense towards something more shocking and sinister.
If you are revisiting the film, it is hard not to be struck by how fresh it still feels despite being so iconic. Certain sequences still have a visceral, raw power and there is a sinister aura throughout.
Universal have included a raft of extras for this release, which include the following:
50th Anniversary Special Edition Steelbook Blu-ray – including 20-page 'Making of Psycho' booklet
Psycho Sound: A never-before-seen piece that looks at the re-mastering process required to create a 5.1 mix from the original mono elements using Audionamix technology.
The Shower Scene: A look at the impact of music on the infamous "shower scene."
The Making of Psycho: A feature-length documentary on Hitchcock's most shocking film.
In the Master's Shadow – Hitchcock's Legacy: Some of Hollywood's top filmmakers discuss Hitchcock's influence and why his movies continue to thrill audiences.
Hitchcock/Truffaut Interviews: Excerpts from a 1962 audio interview with Alfred Hitchcock.
Audio Commentary: Feature-length audio commentary with Stephen Rebello (Author of "Alfred Hitchcock and the making of Psycho")
Newsreel Footage: The Release of Psycho: Vintage newsreel on the unique policy Alfred Hitchcock insisted upon for the release of the film.
The Shower Scene: Storyboards by Saul Bass: Original storyboard design.
Production Notes: Read an essay on the making of the film.
The Psycho Archives: See the gallery of on-set photo stills from the film's production.
Posters And Psycho Ads: See a gallery of original posters and ads from the theatrical campaign.
Lobby Cards: View a gallery of promotional lobby cards from the film's theatrical campaign.
Behind-The-Scenes Photographs: View rare photos showing the cast and crew at work.
Theatrical Trailer: Watch the original promotional trailer from the film's theatrical campaign.
Re-Release Trailers: Watch the promotional trailer created for the re-release of the film.
> Buy Pyscho on Blu-ray from Amazon UK
> Psycho at the IMDb
The Seven-Ups (Optimum): This neglected 1973 crime drama was the sole directorial effort of Philip D'Antoni, best known for producing Bullitt (1968) and stars Roy Scheider as an NYPD cop who runs a task force charged with catching criminals guilty of offences worth at least seven years in jail.
When a valuable street informant (Tony Lo Bianco) double-crosses the cops, they decide to throw out the rule book in taking on the criminals of the city.
It bears some notable similarities to The French Connection (1971): there is a classic car chase (featuring stunt driver Bill Hickman) and Scheider's character has more than a passing resemblance to his role in William Friedkin's film.
Despite this, there is much to appreciate in The Seven-Ups. It paints an evocative picture of New York in the early 1970s and the screenplay by Albert Ruben and Alexander Jacobs doesn't squeeze characters into clichéd situations.
D'Antoni gives the film a vivid and gritty look whilst also coaxing some fine performances from his cast, which includes Scheider, Tony Lo Bianco, Richard Lynch and Larry Haines.
Whilst not as good as The French Connection, if you're a fan of cop movies from this era it is well worth seeking out.
> Buy The Seven-Ups from Amazon UK
> The Seven Ups at IMDb
Spiral: Series 1 & 2 (2 Entertain): This intelligent French police drama first aired on UK TV back in 2006 on BBC Four and like The Wire attracted a small but devoted following, especially amongst critics.
This week sees the release of Series 2, but as it might not be on the radar for a lot of viewers I'd recommend the combined Series 1 & 2 boxset.
The French title "Engrenages" literally translates as "Gears" and presumably hints at how crime and violence, amongst other things, can spiral out of control.
The first season deals with the death of a young Romanian woman found on a rubbish dump in Paris. The resulting investigation slowly reveals her past life but also sheds uncomfortable light on the very legal system that is trying to uncover the truth about her death.
The second season starts with a burned corpse discovered in the boot of a car and what initially appears to be a case of urban violence slowly grows into a much larger case involving international trafficking and arms dealing.
Like The Wire, it is an intelligent look at crime as a social disease rather than simply a puzzle to be solved. But it is arguably darker and more twisted than any US cop show would dare to be.
There aren't too many shows that feature charred corpses in grisly detail or teenagers snorting heroin before collapsing into a coma.
It might not yet have the popularity of crime dramas on the mainstream channels but Spiral is a subtle and refreshing antidote to what's currently on the box.
> Buy Spiral Series 1 & 2 from Amazon UK
> Spiral at the IMDb
[ad]
ALSO OUT
Deep Blue Sea (Warner Home Video) [Blu-ray / DVD]
Kamui – The Lone Ninja (Manga Entertainment) [Blu-ray / DVD]
Legion (Sony Pictures Home Ent.) [Blu-ray / DVD]
Pandora and the Flying Dutchman (Park Circus) [Blu-ray with DVD]
The Blind Side (Warner Home Video) [Blu-ray with DVD]
The Infidel (Revolver Entertainment) [Blu-ray / DVD]
The Stranger (Anchor Bay Entertainment UK) [Blu-ray / DVD]
> The Best DVD and Blu-ray releases of 2009
> UK cinema releases for Friday 6th August 2010 including Knight & Day