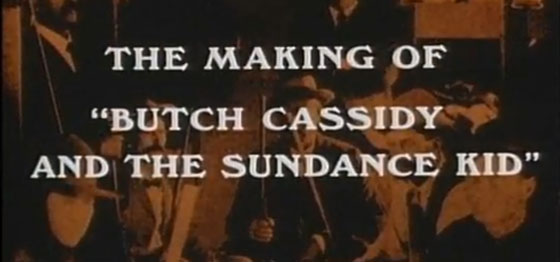 This 42-minute documentary explores the making of the famous 1969 western and is narrated by director George Roy Hill.
Although it is a lot rougher than the slick promotional EPKs used today, it features a lot of fascinating behind-the-scenes footage.
George Roy Hill is wonderfully open and frank about various aspects of the production, including:
Newman's acting process
Casting Katherine Ross
Problems with a bull
Conrad Hall's cinematography
The multi-camera setup for the train explosion
Old-school visual effects used in the river jump sequence
How they shot the final sequence
His final line of commentary is priceless:
"I have now spent exactly a year and three months on this film and at this point I don't know how it is going to be received. I think it's a good film, I think the guys are great in it, and I think the relationships work. It was a helluva lot of hard work doing it …and if the audiences don't dig it I think I'll go out of my fu*king mind"
The documentary is interesting as it was made before the film became a huge box-office success and the highest grossing film of 1969.
It was also important for a young David Fincher, who explained why in a 2009 Guardian interview:
"The eureka moment was when I saw a behind-the-scenes making-of about Butch Cassidy and the Sundance Kid. It was kind of a shabby EPK that had been cobbled together, but it was narrated by the director, George Roy Hill. And it was the first time I'd ever conceived that films didn't happen in real time. I was about seven years old, and I thought, "What a cool job." You get to go on location, have trained horses and blow up trains and hang out with Katharine Ross. That seemed like a pretty good gig"
> Butch Cassidy and the Sundance Kid at Wikipedia
> George Roy Hill at the IMDb
> William Goldman on Butch Cassidy and the Sundance Kid