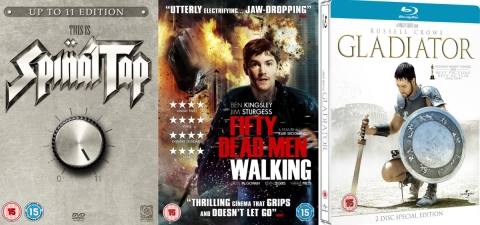 [ad]
DVD & BLU-RAY PICKS
This Is Spinal Tap – Up To 11 Edition (Optimum): A re-release for the classic 1984 spoof music documentary which stars Christopher Guest, Michael McKean and Harry Shearer as the three members of fictional heavy-metal/hard rock band Spinal Tap.
Directed by Rob Reiner it remains a brilliantly observed look at the pretentious glory of rock and roll and fully justifies it's hallowed status amongst audiences the world over.
Optimum are releasing three versions in the UK, a 3 DVD box-set (£19.99 RRP), a Blu-ray (£24.99 RRP) and a limited edition Marshall Amp edition (£69.99 RRP).
The Marshall amp edition includes:
Limited Edition customised fully working Marshall amp (going up to 11)
Numbered speciall amp packaging
7 original art cards
5 Disc Stonehenge digi pack – including:
Discs 1-3 – DVD content as per the 3-Disc DVD box-set (detailed below)
Disc 4: The Blu-ray of 'This Is Spinal Tap'
Disc 5: The Original Soundtrack CD
Extras on the Blu-ray Disc (all on a single-disc with the film) and the 3 DVD box-set include:
Disc 1:
Fully re-mastered feature
This is Spinal Tap: Up to 11 – Brand new 25th Anniversary Documentary feat. Ricky Gervais, Eddie Izzard, Martin Freeman, Anvil, Serge Pizzorno and more (43 mins)
Audio Commentary by the band
Menu commentary by the band
Go To 11 – Menu animation feature
Disc 2:
The Return of Spinal Tap Royal Albert Hall concert (57 mins)
2007 Live Earth footage & Live Earth reunion short film (4 mins 20)
National Geographic Stonehenge interviews with Nigel (9 mins 1)
Sprinkle some ****in Fairy Dust On It – interview with Reg Presley of The Troggs (6 mins 54)
Disc 3:
Outtakes** (1 hr 7 mins)
Original Trailers (7 mins)
4 x Music Videos (12 mins 27)
TV Spots (1 min 37)
Cutting Room Floor Deleted Scenes incl Heavy Metal Memories, Flower People, Cheese Roll trailer
EPK featurettes (20 mins 50)
Creative Meeting & Bitch School Videos (4 mins 33)
DVD Specs:
1.85:1 Anamorphic Widescreen
English DD5.1 Surround
English and French DD2.0 Stereo
Subtitles (Main Feature): Danish, French, German, Norwegian, Finnish, Swedish
Subtitles (Extras & Commentary): French, German
Blu-ray Specs:
1080P 1.85:1 Widescreen
English 5.1 DTS-HD Master Audio
English and French Stereo LPCM
Subtitles (Main Feature): Danish, French, German, Norwegian, Finnish, Swedish
Subtitles (Extras & Commentary): French, German
Perhaps the highlight of the new package is the Outtakes which include many scenes which didn't make the final cut including:
Romance, Mystery & Sheer Sex
Opening Night Party
Promo Spots
Derek's Out of Circulation
Tommy's Corruption
Backstage
Trouble in Memphis
Respects to the King
On the Air with Spinal Tap
Son of St Hubbins
Roma '79
Recording Studio Meltdown
Nigel's Replacement
Tap at The Zoo
Fifty Dead Men Walking (Metrodome): A gripping adaptation of Martin McGartland's 1997 autobiography, about his time as an informant within the Provisional IRA from 1988 til 1991. It stars Jim Sturgess as McGartland, Ben Kingsley as his British handler and was directed by Kari Scogland.
Although some changes to the actual events reduce the film's overall impact the performances and direction make this a fairly substantial drama. It isn't in the same league as 'Bloody Sunday' or 'Hunger' but remains a compelling portrait of one particular episode within the Troubles.
Available on DVD (£15.99 RRP) and Blu-ray Disc (£19.99 RRP), it contains the following extras:
Commentary with Director Kari Skogland
On set with 'Fifty Dead Men Walking'
Exclusive extract from the book 'Fifty Dead Men Walking'
Deleted Scenes
Theatrical Trailer
* Listen to my interview with director Kari Scogland *
[ad]
Gladiator (Universal): The Blu-ray release for Ridley Scott's Oscar-winning Roman epic has arguably been one of the most anticipated releases of the new format.
Russell Crowe stars as Maximus, a Roman general who is betrayed, has his family killed and is sold into to slavery by a corrupt prince, before eventually returning to Rome as a gladiator seeking revenge.
There has been a big debate on various Blu-ray and Hi-def sites about the quality of the transfer used for this release with some suggesting that it is good, whilst others are critical of Paramount (who own the film after acquiring DreamWorks in 2005, even though Universal is releasing it in the UK), accusing them of cutting corners in the process.
However, it is likely to be a big seller, not least because of the wealth of extras, which are as follows.
Tech Details
1080P 2.35:1 Widescreen
English 5.1 DTS-HD Master Audio
French, Italian, German, Spanish, Portuguese & Latin American Spanish 5.1 DTS Surround
Subtitles: English SDH, French, Italian, German, Spanish, Brazilian, Swedish, Danish, Finnish, Dutch, Norwegian, Portuguese, Traditional Chinese, Latin American Spanish
Disc One
Theatrical Version (155mins)
Audio Commentary by Director Ridley Scott, Cinematographer John Mathieson & Editor Pietro Scalia
Deleted Scenes with optional commentary
Extended Version (171mins)
Introduction by Ridley Scott
Audio Commentary by Ridley Scott & Russell Crowe
U-Control features on both Theatrical and Extended versions
The Scrolls of Knowledge – The original Are You Not Entertained? trivia track newly enhanced allowing viewers to access a series of new behind-the-scenes featurettes exploring key scenes throughout the film
Visions from Elysium: Topic Marker – A U-Control feature that allows Disc One Viewers to tag moments of interest throughout the entire film, allowing them to create "shopping lists" of topics to learn more about from the features on Disc Two
Disc Two
Visions from Elysium – A U-Control feature that automatically accesses further content from tagged moments of interest that have been marked by viewers from Disc One
Strength and Honour: Creating the World of Gladiator (200 mins.) – The definitive documentary on the origin, production and impact of this Oscar-winning Best Picture
Tale of the Scribes: Story Development
The Tools of War: Weapons
Attire of the Realm: Costume Design
The Heat of Battle: Production Journals Germania / Zucchabar / Rome
Shadows and Dust: Resurrecting Proximo
The Glory of Rome: Visual Effects
Echoes in Eternity: Release and Impact
Strength and Honour will now include all-new Picture-In-Picture content accessed via U-Control (156mins)
Aurelian Archive
The Making of Gladiator (25 mins.)
Gladiator Games: The Roman Bloodsport (50mins.)
Hans Zimmer: Scoring Gladiator (21 mins.)
Maximus Uncut: Between the Takes with Russell Crowe (8mins.)
My Gladiator Journal by Spencer Treat Clark (Text/Photos) – The personal diary of the young actor who played Lucius, providing a unique and amusing perspective on the creation of an epic film
VFX Explorations: Germania & Rome (24 mins.)
Image and Design
Production Design Featurette and Galleries (10 mins.)
Storyboard Demonstration (14 mins.)
Multi-Angle Storyboard Comparisons and Galleries (15 mins. x 2 angles)
Ridleygram Galleries
Costume Design Galleries
Photo Galleries
Abandoned Sequences & Deleted Scenes
Alternate Opening Titles and Featurette (9 mins.)
Blood Vision (with optional commentary) (3 mins.)
Rhino Fight (with optional commentary) (5 mins.)
Choose Your Weapon (1 min.)
Treasure Chest (7mins)
Trailers (2) & TV Spots (20) (13 mins.)
Amazon are also offering a Limited Edition Steelbook set.
[ad]
ALSO OUT
Are You Being Served Series 8 (2 Entertain)
Butterfly Kiss (Second Sight)
Chan is Missing (Drakes Avenue Pictures)
Doctor Who: The Twin Dilemma (2 Entertain)
Dollhouse Season 1 (Fox)
Dororo (MVM)
Face to Face Box Set (2 Entertain)
Far Cry (High Fliers)
Fermat's Room (Revolver)
Hamlet 2 (Momentum)
Hannah Montana: The Movie (Disney)
Helen (New Wave Films)
Infestation (Icon)
Louis Theroux Law & Disorder (2 Entertain)
Paul Merton in India (2 Entertain)
The Boat That Rocked (Universal)
The Girl Cut in Two (Artificial Eye)
The Inner Life of Martin Frost (Axiom Films)
The Thirties in Colour (2 Entertain)
The Wonderful World of Albert Khan (2 Entertain)
Time Regained (Second Sight)
Tobruk (High Fliers)
Waveriders (Element Pictures)
Wuthering Heights (ITV DVD)
> Browse more DVD Releases at Amazon UK and Play
> Check the latest DVD prices at DVD Price Check
> Take a look at the current UK cinema releases (W/C Friday 4th September)