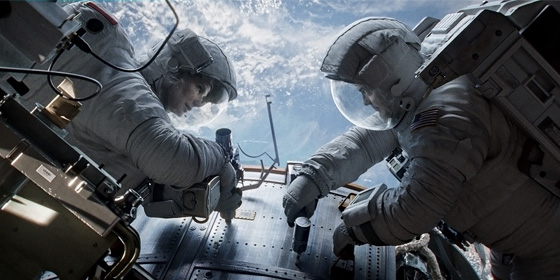 Director Alfonso Cuaron returns after seven year absence from cinema with an exhilarating journey into outer space that sets new standards for visual effects.
When a seemingly routine US mission to fix the Hubble telescope goes disastrously wrong, two astronauts (Sandra Bullock and George Clooney) find themselves floating alone above the earth.
Like his last film, the dystopian drama Children of Men (2006), Cuaron and his crew have come up with a highly inventive approach to story, using a stunning blend of camera work and visual effects to create a chilling plausible dystopian world.
Whilst his latest doesn't have the thematic depth of that film, it remains a gripping thrill ride, utilising cutting edge technology to elicit human emotion and create a powerful tale of survival.
For most of the film we are with a stranded Bullock as she struggles to find a way back home and this is her best role in years. She makes a convincing astronaut but also channels a wide range of emotions from panic to resolve.
As for Clooney, his character is cleverly used and he brings his usual charm and screen presence to his role as a veteran spaceman. An off-screen voice cameo from Ed Harris is a tip of the hat to his famous role in the last major space drama, Apollo 13 (1995).
For Cuaron this is another step in his chameleon-like career, which has included genres such as fantasy, Charles Dickens, the road movie, Harry Potter and sci-fi. Here he takes a bold step into the world of digital cinema and 3D and the result is as impressive as his previous work.
To describe Gravity as science fiction doesn't feel right quite right.
For most of its lean 87 minute running time it feels terrifyingly realistic, even if in retrospect some of the narrow escapes feel a little bit too last second.
But make no mistake, this is a truly groundbreaking film with highly innovative camera work from Cuaron's regular cinematographer Emmanuel Lubezki and stunning visual effects supervised by Tim Webber of Framestore (a previous collaborator).
The extraordinary long take that begins the film sets a marker for what is to come with shots of the various space craft and earth below that are a marvel to behold on a big screen.
Using a complex mixture of camera rigs, LED lighting panels, groundbreaking CGI and even puppeteers from the stage version of War Horse, the zero gravity of outer space is brilliantly realised, with the earth below just as convincing.
Cuaron and his team have wisely opted to use technology in service of the central story, which was perhaps the reason they opted for such a lean premise, and the result is a pure fusion of technology and emotion.
Sound, silence and a dramatic score by Steven Price also play a critical role in creating the extraordinary atmosphere of the film.
Although time will inevitably lead to more advanced visual effects, Gravity will still represent a landmark in modern cinema.
In a time of great uncertainty and opportunity for the medium, it represents how more traditional directors can utilise digital tools to tell a spellbinding story.
Gravity screened at the London Film Festival on Thursday 10th and Friday 11th October
(It opens in the UK on Friday 8th November)