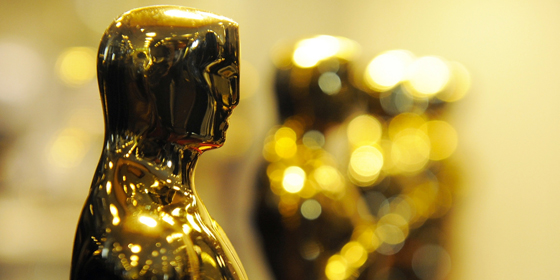 There's only two contenders up for original song this year, and both are from family movies.
MAN OR MUPPET from THE MUPPETS (Music and Lyric by Bret McKenzie)
This song was used as the official music video for the film and was performed by Jason Segel and Walter the muppet.
The Muppets Original Soundtrack available on Walt Disney Records and more information is on their official site.
You can also download the sheet music and read an Observer profile on Jason Segel here.
REAL IN RIO from RIO (Music by Sergio Mendes and Carlinhos Brown / Lyric by Siedah Garrett)
In the film, this song is divided in two parts: the first is played in the opening sequence and the second is sung in the penultimate  scene of the film. (On the soundtrack, the song is complete).
Unfortunately, they don't seem to have made the full track officially available, so I've included the promotional 2 minute clip that the studio released on YouTube back in the Spring.
The official website for Rio is here and you can download the score from the iTunes store here.
> Official Oscar site
> Explore past winners of Best Original Song at Wikipedia