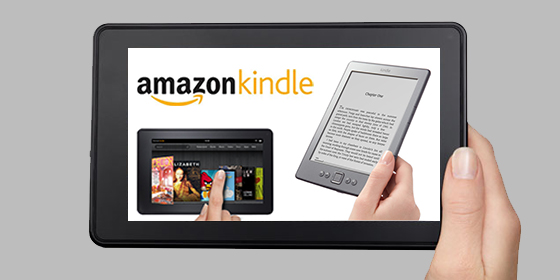 Amazon launched their new tablet computers yesterday with the Kindle Fire and Kindle Touch.
So far only Apple and Amazon have managed to make serious inroads into tablet computing.
They have done it through being very good at different approaches to the form.
Apple has built the best mobile browsing experience with the iPad out of the touch-based operating system they established with iPhone and iPod Touch.
With the iTunes store they have mastered the art of making online media consumption easy for the mainstream user by encasing it in attractive, premium hardware.
A more cost-effective option has been created by Amazon with the eBook device called the Kindle, which has quietly become a serious rival to the iPad.
The hardware isn't as expensive and its E Ink display means it is easier on the eye and a better device for reading longer form articles in newspapers and magazines.
Until now they have served relatively different markets – iPad users browse and consume content on relatively expensive hardware, whilst Kindle users read text on a relatively cheaper alternative.
But with the launch of the Kindle Fire it seems that Amazon want to cut into the iPad's territory in a big way.
Part of the reason Android tablets have failed so far is that they haven't been as good as the iPad and Apple's head start (remember Steve Jobs admitted the iPad concept actually predates the iPhone) has meant that rivals manufacturers been unable to price their devices competitively.
Who is the only company in the world who has created a best-selling tablet device and has a customer base to rival the iTunes store?
Step forward Amazon.
They recently announced the Kindle Fire in New York which went on sale for $199 and featured the following features:
Amazon's version of the appstore
New cloud-accelerated web browser
Over 18 million movies, TV shows, songs, magazines, and books etc,
Free cloud storage for all your Amazon content
Color touchscreen display
Powerful dual-core processor
Amazon Prime members will get enjoy unlimited, instant streaming of over 10,000 popular movies and TV shows
TWiT covered the launch event with this in-depth special:
The Fire got most of the media attention, partly because the mainstream media are addicted to Apple and want to write about 'the iPad rival'.
There is some truth in this as Amazon, with their vast library of content, pose the first serious threat to the iPad and it marks another evolution in how we buy and experience movies, music, games and other forms of media.
Apple and Amazon's stores really have no equal in terms of registered users with paying credit credit cards.
(Quick aside: who do you think has more registered customers? I say Amazon, even if Apple make more money per user).
Both have innovated in the technology of mobile computing.
We all know about Apple's touch interface but Amazon's cloud-powered browser looks like it will be making effective use of both their web services and vast customer data.
But is the Kindle Touch the bigger deal?
It is an improved model at a cheaper price and features the following:
30% lighter weight
18% smaller body, with the same 6″ screen size
More advanced E Ink display
Built-in Wi-Fi
Faster page turns
It doesn't have 3G but, apart from web browsing on the go, I don't see that being a problem for most users.
The price of the earlier versions of the Kindle were competitive but now they have an improved device (no more keyboard) which sells at $89.
More importantly it represents a cheaper version of the kind of device which will replace dead tree print.
The model for daily print newspapers is essentially over unless you want them bankrolled by rich owners who want to sink more money on outdated distribution costs.
Weekly magazines that are smart with good content and metered paywalls – like The Economist – will survive but the march to digital will only intensify.
The Kindle model represents the most compelling publsihing ecosystem yet for the digital age – it offers a wide variety of articles for readers and a publishing platform for writers.
Even though the current Kindle isn't perfect, it is the best e-Reader so far and it will be interesting to gauge sales in the run up to Christmas.
The question is who is going to break the duopoly that Amazon and Apple have on tablet computing?
> Engadget and Techcrunch on the Amazon Fire
> Mashable on the Kindle Touch
> More on the Amazon Kindle at Wikipedia