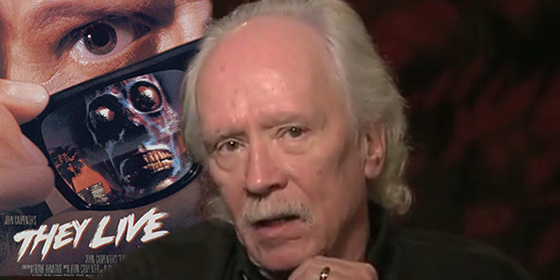 One of the most interesting films of the late 1980s was John Carpenter's They Live.
After his amazing run of genre films in the late 70s and early 80s (from Assault On Precinct 13 until Escape From New York), his efforts at major studios seemd to lack the intensity of his early career.
But in 1988 he returned with a sci-fi horror film that was a chilling and darkly comic response to the dark side of Regan's America.
The story of a wandering man (Roddy Piper) who discovers sinister forces secretly shaping society through advertising, it has a new relevance in these recessionary times.
Part of what makes the film so effective is that it wraps a subversive message within the form of an entertaining sci-fi thriller.
In fact, I would suggest that it is one of the most quietly subversive films ever released by a major studio and was possibly a big influence on The Matrix (1999).
Carpenter recently recorded this video introduction for the film for an upcoming screening at the Alamo Drafthouse in Austin, Texas.
The cinema recently achieved internet fame by creating the greatest cinema advert ever and artist Shepard Fairey (an admirer of the movie) has even created a special Mondo poster for the screening.
> Buy They Live at Amazon UK
> They Live at IMDb
> John Carpenter and Shepard Fairey at Wikipedia
> More on the Alamo Drafthouse screening of They Live
> Shephard Fairey on They Live