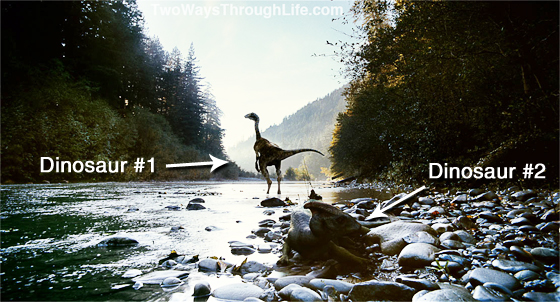 A closer look at the stills for Terrence Malick's The Tree of Life reveals two dinosaurs.
As the new film from one of cinema's most enigmatic directors draws nearer, there has been much talk about the trailer, if it will screen in the UK before Cannes and the whole business about the dinosaurs.
According to the film's sales agent Summit, the barebones story is:
"the tale of a Texas boy's journey from the innocence of childhood to his disillusioned adult years as a 'lost soul in the modern world', and his quest to regain meaning in life".
Whatever, the finished result the anticipation of a Malick film starring Brad Pitt, Sean Penn with Emmanuel Lubezki as DP has cineastes rightly excited.
But what is the sequence involving dinosaurs all about?
When VFX Supervisor Dan Glass gave a fairly detailed interview to Little White Lies about his work on the film, it was promptly taken down (presumably at the request of the producers and distributors) as he may have violated a non-disclosure agreement.
But traces of it remain online and he essentially confirmed that there would be dinosaurs in the film and that Malick had incorporated notes and negatives he's been working on since the 1970s (!).
As for other details, the effects shots used "extraordinary source imagery from actual probes and telescopes", some of the film was shot in IMAX, the VFX work was done to a "very high resolution" and the music and sound are reportedly "tremendous".
Speaking of high resolution, Fox Searchlight recently released some hi-res stills from the film on their official Tumblr blog, including a shot of the dinosaur.
But look closer here and you will find another one in the frame.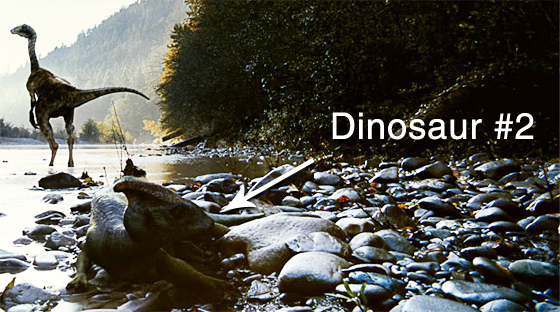 In addition to all this is the stand off between UK distributor Icon and US sales agent Summit over the release date.
Icon are still insisting that they will have a press screening of the film on May 3rd, before opening on May 4th.
Obviously this would wreck the carefully laid plans of the world premiere at Cannes and the subsequent US release by Fox Searchlight.
As I write this there is still nothing about the film on their official website and it has been reported that there is some behind-the-scenes wrangling over the release with sales agent Summit saying:
"'The information regarding the May 4th U.K. release is incorrect. Icon Film Distribution Ltd. does not have the right to distribute The Tree of Life in the U.K, as it is in default of its agreement. The matter is pending before an arbitration tribunal in Los Angeles.'
But according to another report Icon are still adamant that they are going to release it on May 4th.
The Tree of Life may (or may not) open in the UK on May 4th and will screen at the Cannes Film Festival on May 16th before opening in the US on May 27th
> Official site and Tumblr blog
> More on Terrence Malick at Wikipedia
> David Thomson profiles Malick at The Guardian