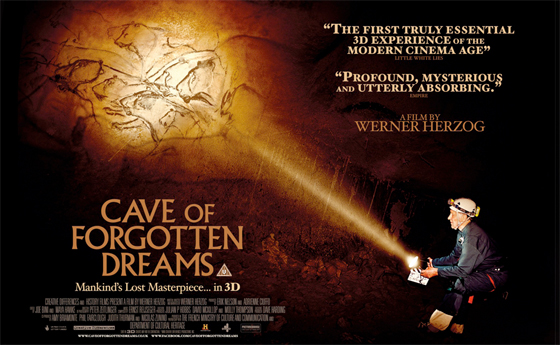 Werner Herzog's new documentary Cave of Forgotten Dreams is getting released around the UK this week.
The film follows Herzog's exploration of the Chauvet-Pont-d'Arc Cave in southern France, which was discovered in 1994 and contains paintings and markings dating back thousands of years to the Paleolithic era.
Not open to the public, Herzog managed to get permission to film inside the cave with a small crew and specially modified 3D cameras and lights.
A remarkable film about an awe-inspiring place, you can read our full review here.
Unusually, the cinema chain Picturehouse is releasing it through their distribution arm and it will be screening at selected locations across the UK.
Tonight there will be special preview screenings after which Herzog will do a live Q&A session with Jason Solomons beamed live to cinemas (more details on that here).
From Friday it will be showing at the following UK cinemas in 3D and 2D, so just click on the links below for more details.
PICTUREHOUSE CINEMAS IN 3D
PICTUREHOUSE CINEMAS IN 2D
OTHER CINEMAS IN 3D
OTHER CINEMAS IN 2D
> Official site
> More reviews and links about Cave of Forgotten Dreams at MUBi
> Find out more about Werner Herzog and the Chauvet Cave at Wikipedia
> Facebook group
> Details of a live Q&A with Herzog (via satellite) on March 22nd