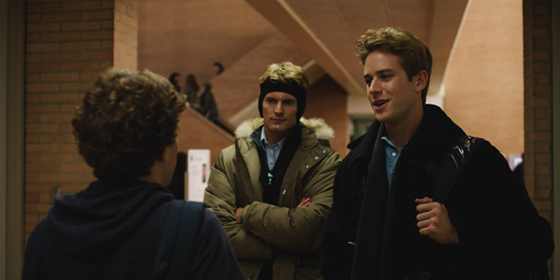 One of the most impressive elements of The Social Network was the visual effects that allowed one actor to play twins.
Tyler and Cameron Winklevoss were the twin brothers who claimed that Mark Zuckerberg (Jesse Eisenberg) stole their idea for Facebook.
However, director David Fincher had a problem when he couldn't find a pair of twins that matched the real world Harvard rowers.
So, a solution was hatched where a combination of visual effects and another fill-in actor (Josh Pence) was used to create the illusion.
A visual effects team from Lola (a company that specialises in human face and body manipulation) essentially painted a digital version of Hammer's face on to Pence's.
This video shows how they did it:
> Detailed explanation of the process at FX Guide
> Buy The Social Network on Blu-ray or DVD from Amazon UK