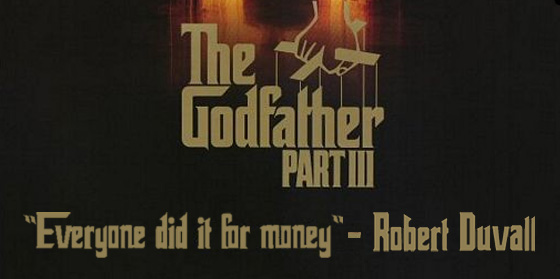 Back in 1991 Robert Duvall gave an unusually frank interview with Bob Costas, in which he revealed why he didn't appear in The Godfather III.
After playing Tom Hagen, the Corleone's in-house lawyer and consigliere, in the first two films he was under no illusions that the reasons Part III came about were financial.
Added to that, he was upset that Pacino was offered 5 times the amount he was going to get.
His analysis of the film is spot on:
When you see the movie, it is not as good as the first two.

…I thought the premise was very interesting …but when I did see it, …it just wasn't as good.

…It was fifteen years later and it was like it had been done. …They did it for money.
Watch the interview below, in two parts:
> Robert Duvall at the IMDb
> The Godfather series at Wikipedia