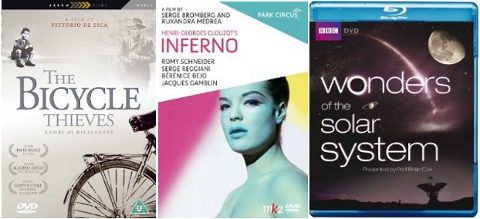 [ad]
DVD & BLU-RAY PICKS
The Bicycle Thieves (Arrow Films): A welcome re-release for Vittorio De Sica's classic 1947 neorealist film about desperation and struggle in post-war Italy, is the tale of a poor man (Lamberto Maggiorani) and his son (Enzo Staiola) searching the streets of Rome for his stolen bicycle, which he needs to be able to work.
Based on the novel by Luigi Bartolini, it was adapted for the screen by Cesare Zavattini and used non-professional actors to create a telling picture of poverty in post-war Europe. A landmark film in many ways, it still contains scenes of great power and is ultimately a very moving depiction of the love between father and son.
The special features on this re-release by Arrow Films include:
Timeless Cinema: A documentary on Vittorio De Sica
Theatrical Trailer
Original Poster Artwork & Lobby Stills
Henri-George Clouzot's Inferno (Park Circus): A hybrid documentary and part reconstruction of Henri-Georges Clouzot's unfinished project L'Enfer ('Inferno'), an enigmatic film about a hotel manager who becomes possessed by the demons of jealousy. The story of how this project got made is a fascinating one: Serge Bromberg and Ruxandra Medrea managed to persuade Clouzot's second wife, Inès de Gonzalez, to give permission to use footage from Clouzot's original film, which they then supplemented with interviews of cast and crew members.
Among the contributors are production assistant Catherine Allégret, director Costa Gavras, and assistant cinematographer William Lubtchansky. Bromberg also recreates certain scenes with actors Bérénice Bejo and Jacques Gamblin. A notable arthouse feature on the festival circuit last year (screening at Cannes, Toronto, New York and London) it also received the César Award for Best Documentary. [Buy on DVD]
Wonders of the Solar System (2 Entertain): One of the best TV series to air on the BBC this year sees Professor Brian Cox visit notable locations around Earth to illustrate how the laws of nature have carved natural wonders across the Solar System. The five episodes explore: the Sun; the Rings of Saturn; the atmosphere of Earth and Titan; the size of planets, volcanoes and the moon Io; and the search for life on other worlds, focusing on Mars and Jupiter's moon Europa.
Cox is an engaging and informative host and along with the BBC shows Galapagos and Planet Earth, it is well worth checking out on Blu-ray as it is full of stunning imagery that looks fabulous in HD. The show's better than expected ratings pleasantly surprised BBC bosses, who according to Cox's Twitter account have commissioned another series, called 'Universal', which they begin shooting next month. [Buy on Blu-ray / Buy on DVD]
[ad]
ALSO OUT
Alvin and the Chipmunks 2 – The Squeakquel (20th Century Fox Home Ent.) [Blu-ray / DVD] 
Being Human: Complete Series 2 (2 Entertain) [DVD]
Dolan's Cadillac (Momentum Pictures) [Blu-ray / DVD]
Law Abiding Citizen (Momentum Pictures) [Blu-ray / DVD]
Raging Phoenix (Showbox Media Group) [Blu-ray / DVD]
The Descent: Part 2 (20th Century Fox Home Ent.) [Blu-ray / DVD]
Tombstone (Walt Disney Studios Home Ent.) [Blu-ray]
Bad Behaviour (Lionsgate UK) [DVD]
Blood and Oil (2 Entertain) [DVD]
Clint Eastwood: Westerns (Warner Home Video) [DVD]
Crude (Dogwoof Digital) [DVD]
Ghost Machine (Anchor Bay Entertainment UK) [DVD]
Glee: Season 1 – Volume 1 (20th Century Fox Home Ent.) [DVD]
Henry Lee Lucas – Serial Killer (Lionsgate UK) [DVD]
Humpday (Momentum Pictures) [DVD] 
I'm Gonna Explode (Artificial Eye) [DVD]
OSS 117: Lost in Rio (ICA) [DVD]
Starsuckers (Network Releasing) [DVD]
The Big I Am (E1 Entertainment UK) [DVD]
Vietnam (Fremantle Home Entertainment) [DVD]
We Live in Public (Dogwoof Digital) [DVD]
> The Best DVD and Blu-ray releases of 2009
> UK cinema releases for Friday 9th April including Shelter and Whip It