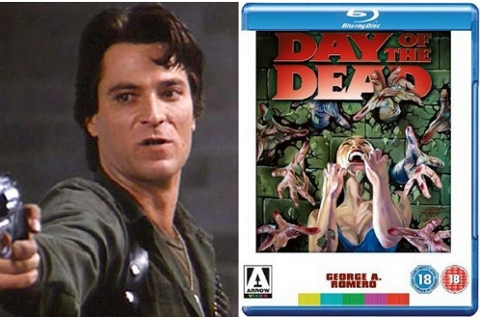 [ad]
George A. Romero's Day Of The Dead has recently been released on Blu-ray in a special two-disc 25th Anniversary edition and I recently spoke to one of its stars Joe Pilato about the film and the enduring legacy of the horror series.
The third instalment in Romero's ongoing zombie saga sees the living dead take over the world and only small pockets of human resistance survive. One group of survivors, a motley crew of scientists and soldiers, are holed up in a 14-mile long underground missile silo where tensions begin to erupt as the zombie hoards surround them.
The bleakest and goriest of Romero's zombie films to date, Day Of The Dead has often been overshadowed by its more illustrious predecessors, but in recent years it has found greater appreciation, with Tom Savini's ground breaking make-up effects and the social commentary on Reagan's America becoming more apparent.
This Blu-ray edition features a restored presentation of the film, a new hi-def soundtrack, four alternate sleeves, a double-sided poster, a 24-page collector's booklet 'For Every Dawn There Is A Day', plus a very special collector's comic – 'Day Of The Dead: Desertion' – featuring a brand new 'Bub' storyline.
Two all-new documentaries were also commissioned for this release: In 'Joe Of The Dead' (directed by Calum Waddell) Joe talks about his career in movies – from his early appearance in the little-seen Pittsburgh horror outing 'Effects' (which also featured Romero regulars Tom Savini and John Harrison) to his small parts in 'Dawn Of The Dead' and 'Knightriders' and his work as Captain Rhodes in Day Of The Dead.
In 'Travelogue of the Dead' (directed by Naomi Holwill), we join Pilato as he travels across Dublin, Edinburgh and Glasgow in October 2009 celebrating the 25th anniversary of Day Of The Dead and witness him meeting the fans, reciting his most famous lines from the movie – live and on stage – and drinking with the best of them.
Calum Waddell also penned the 'For Every Dawn There Is A Day' collector's booklet, which is an essay on the making of the movie that collects brand new interviews with Romero, Savini, editor Pasquale Buba, assistant director/composer John Harrison and actors Joe Pilato, Lori Cardille and Gary Steele.
I recently spoke to Joe about the film's Blu-ray release and you can listen to the interview here:
[audio:http://filmdetail.receptionmedia.com/Joe_Pilato_on_Day_of_the_Dead.mp3]
You can download this interview as a podcast via iTunes by clicking here
The two-disc 25th Anniversary Edition Day Of The Dead is out now on Blu-ray from Arrow Video
> Download this interview as an MP3 file
> IMDb entry
> Pre-order the Blu-ray from Amazon UK