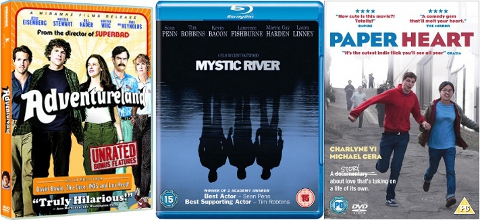 [ad]
DVD & BLU-RAY PICKS
Adventureland (Walt Disney): Director Greg Mottola followed up Superbad (2007) with this marvellous coming-of-age comedy set in the summer of 1987 about a recent college grad (Jesse Eisenberg) who takes a nowhere job at a local amusement park, where he falls in love and learns a few life lessons.
Superbly made and acted it features some terrific performances from Eisenberg, Kristen Stewart, Ryan Reynolds (seriously) and Bill Hader. Although it didn't make a huge amount of money at cinemas, it was one of the best films of last year and will almost certainly become a cult favourite in the future.
Plus, it has a memorable use of Falco's 'Amadeus' and the line "status obsessed witch" is one of the killer movie phrases in recent memory.
Extras include:
Deleted Scenes
Just My Life: The Making Of Adventureland
Feature Commentary — With Writer/Director Greg Mottola And Actor Jesse Eisenberg
A Satiric "How To" On Inflicting Unexpected Pain
* Buy Adventureland on DVD or Blu-ray from Amazon UK *
Mystic River (Warner): A release on Blu-ray for Clint Eastwood's 2003 adaptation of the Dennis Lehane novel, which is set in Boston and deals with three childhood friends (Sean Penn, Tim Robbins and Kevin Bacon) who are reunited after one of their daughters gets killed.
A powerful and well acted drama, it features fine supporting performances from Laura Linney, Marcia Gay Harden and Laurence Fishburne. Tastefully shot (by Tom Stern) and edited (by Joel Cox), it bears all the hallmarks of Eastwood's classy dramas over the last decade and won Sean Penn and Tim Robbins Oscars for their performances.
Gary Tooze of DVD Beaver has posted some screen shots of the Blu-ray and is impressed with the transfer and the overall package, saying:
"…contrast and colors leap ahead. …this looks very good and occasionally even impressive with some desirable depth. Dependant on your system – the superiority is moderate to heavy over the previous SD-DVDs"
This includes all the extras from the R1 DVD release that were never included on the UK R2 DVD.
Commentary by Tim Robbins and Kevin Bacon
Dennis Lehane Tours the Boston Neighborhood Setting of His Novel in Mystic River: Beneath the Surface
Featurette Mystic River: From Page to Screen
The Charlie Rose Show Interviews with Clint Eastwood, Tim Robbins and Kevin Bacon
Theatrical Trailers
* Buy Mystic River on Blu-ray from Amazon UK *
[ad]
Paper Heart (Anchor Bay): A new film starring Charlyne Yi and Michael Cera as fictionalized versions of themselves in a "hybrid documentary" about love. Directed by Nicholas Jasenovec, it also features Yi travelling across America asking various people about their experiences of love.
Extras include:
Paper Heart Uncut
"The Making of Paper Heart"
Live musical performances by Charlyne Yi
"Heaven" music video by Charlyne Yi and Michael Cera
Love interviews with the comedians
Deleted scenes
Trailer
* Buy Paper Heart on DVD or Blu-ray from Amazon UK *
ALSO OUT
Blue Dragon Complete Series 1 (Manga) [Buy it on DVD]
Couples Retreat (Universal) [Buy it on DVD | Buy it on Blu-ray]
Death Note Relight: Visions of a God (Manga) [Buy it on DVD]
I Love You, Beth Cooper (Fox) [Buy it on DVD]
In the Electric Mist (High Fliers) [Buy it on DVD | Buy it on Blu-ray]
Kamikaze Girls (Special Edition) (Third Window Films) [Buy it on DVD | Buy it on Blu-ray]
Lala Pipo (Third Window Films) [Buy it on DVD]
Long Weekend (2008) (Showbox) [Buy it on DVD]
The Time Traveler's Wife (EIV) [Buy it on DVD | Buy it on Blu-ray]
The Ugly Truth (Sony) [Buy it on DVD | Buy it on Blu-ray]
The Unit Season 4 (Fox) [Buy it on DVD]
> The Best DVD and Blu-ray releases of 2009
> UK cinema releases for Friday 5th February including Invictus and Astro Boy