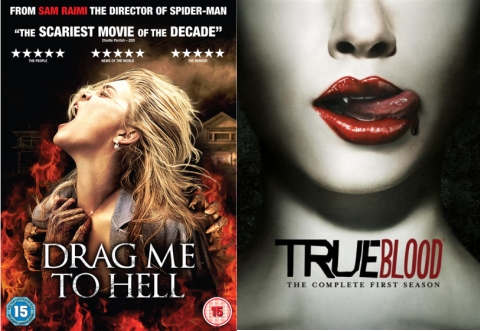 [ad]
DVD PICKS
Drag Me To Hell (Lionsgate): A back to basics horror film for director Sam Raimi which is the tale of a woman (Alison Lohman) who falls under an ancient curse when she is forced to evict an elderly woman (Lorna Raver) from her house. She then has only three days to dissuade a dark spirit from stealing her soul before she is dragged to hell for an eternity of unthinkable torment.
Although maybe not quite matching up to the early reviews and buzz, this is still an effective and pleasingly old fashioned horror which relies on old-school creepy suspense rather than the sadistic butchery that has become all too prevalent in the genre.
Available on DVD and Blu-ray Disc, the following features on each format are as follows:
DVD
Theatrical Cut
2.40:1 Anamorphic Widescreen
English DD5.1 Surround
English HOH subtitles
Production Diaries:
The Bloody Nose
Inside the Psychic World
Makeup Effects
Alison in the Mud
Wirework
Nightmare
Justin Long Profile
The Parking Lot Fight
The Goat
Set Tour: The Great Room, Puzzle Car, Dragging Her To Hell
Blu-ray Disc
Theatrical Cut & Version you couldn't see in cinemas
1080P 2.40:1 Widescreen
English 5.1 DTS-HD Master Audio
English HOH subtitles
Production Diaries
Interviews with Sam Raimi, Alison Lohman and Justin Long (BD Exclusive)
[ad]
True Blood Season 1 (HBO): The first season of HBO's acclaimed vampire series from creator and executive producer Alan Ball (writer of American Beauty and Six Feet Under). Set in rural Louisiana it explores the lives of vampires who have emerged from their coffins and no longer need humans for their fix of blood.
Based on The Southern Vampire Mystery Series books by Charlaine Harris, it focuses on Sookie Stackhouse (Anna Paquin), a telepathic waitress who comes across the 173-year old Bill Compton (Steven Moyer) – a vampire with whom she forms an immediate connection.
Available on DVD and Blu-ray Disc, the features on each format are outlined below.
DVD Extras
Audio commentary on the episode "Strange Love" by executive producer/series creator Alan Ball
Audio commentary on the episode "The First Taste" by cast member Anna Paquin and director Scott Winant
Audio commentary on the episode "Escape from Dragon House" by writer Brian Buckner and director Michael Lehmann
Audio commentary on the episode "Sparks Fly Out" by cast member Stephen Moyer and director Dan Minahan
Audio commentary on the episode "Burning House of Love" by director Marcos Siega
Blu-ray Extras – All of the above plus:
Enhanced Viewing Mode – BD-J Feature including PiP, text-based facts and maps
Season Index
Episodic Previews
Episodic Recaps
ALSO OUT
Asian Horror – Essential Collection (Palisades Tartan)
Bleach Series 4 Part 1 (Manga)
Blood Rain (Palisades Tartan)
Bones Season 4 (Fox)
Clive Barker's Book of Blood (Lionsgate)
Cyborg She (4Digital Asia)
District 13: Ultimatum (Momentum)
Fired Up! (Sony)
Ghost in the Shell 2.0 (Manga)
Ip Man (Showbox)
Korean Horror – Essential Collection (Palisades Tartan)
Last of the Summer Wine Series 15 & 16 (Universal Playback)
Lost Season 5 (Disney)
Monsters Vs. Aliens (Paramount)
Most Haunted Series 11 (Universal Playback)
Naruto Unleashed Series 6 (Manga)
Naruto Unleashed Series 7 Part 2 (Manga)
Obsessed (Sony)
Playing Away (BFI)
Shirin (BFI)
The Hills Run Red (Warner)
Trick 'R Treat (Warner)
Young Rebel Souls (BFI)
> Browse more DVD Releases at Amazon UK and Play
> Check the latest DVD prices at DVD Price Check
> Take a look at the current UK cinema releases (W/C Friday 23rd October)