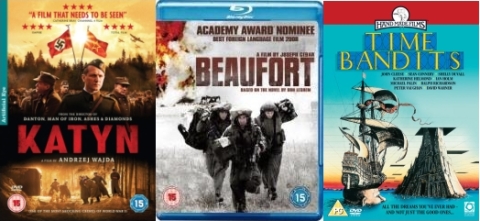 [ad]
DVD & BLU-RAY PICKS
Katyn (Artificial Eye): A drama based on the true story of Polish army officers massacred by the Russia secret police in the Katyń forest during World War II, it was Poland's nominee for Best Foreign Film at the Oscars earlier this year.
Directed by Andrzej Wajda, it stars Artur Zmijewski, Andrzej Chyra and explores the continuing struggle over the memory of the event as well as the Russian cover up that prevented Poles from commemorating those that had been killed.
Available on DVD, although there hasn't been a Blu-ray announced yet, the extras include an interview with the director and a making of featurette. Unlike some editions of the film Artificial Eye have presented this in the proper aspect ratio of 2:35.
Beaufort (Trinity): Although already out on regular DVD, the Blu-ray release of this 2007 drama is just coming out now.
It was Israel's entry for the 2007 Oscars and is about an IDF unit stationed at the Beaufort post in Southern Lebanon during the South Lebanon conflict, and their commander, Liraz Librati, who was the last commander of the Beaufort castle before the Israeli withdrawal in 2000.
Directed by Joseph Cedar, it was co-written by Cedar and Ron Leshem, and based on Leshem's novel of the same name. Ironically filming finished in 2006, just before the Second Lebanon conflict broke out that summer.
The new Blu-ray is playable in all regions and the transfer is presented at 1.85:1 rather than the theatrical 2.35:1 aspect ratio and the audio has both 2.0 and 5.1 DTS HD Audio Master mixes (the DVD release only had a Dolby Digital 2.0 track).
The extras include:
A Making of Featurette

(23:42): This has interviews, footage of the sets being built and some scenes being shot.

Deleted Scenes

(16:41): A couple of which are extended scenes, which fill out the characters a bit more.

Trailers

: There is a short trailer (1:24) and a long trailer (2:09) for the film.
Time Bandits (Optimum): Terry Gilliam's 1981 fantasy film, which he co-wrote with Michael Palin, tells the story of a group of dwarves who leave their jobs with 'The Supreme Being' for a life of crime with a map they've stolen from their workplace.
The map holds the secrets to time-holes in the fabric of creation, allowing the holders to go forward and back as they please. One such journey lands them in the bedroom of a young boy Kevin (Craig Warnock), who joins them on their journey.
The supporting cast includes Ian Holm, John Cleese, Sean Connery, David Warner and Ralph Richardson.
Priced at £15.99 RRP on DVD and £19.99 RRP on Blu-ray Disc, extras include:
New and exclusive interview with Terry Gilliam
Trailer
Scrapbook
[ad]
ALSO OUT
Big Fat Important Movie (Anchor Bay)
Blind Dating (Universal)
House – Season 5 (Universal Playback)
Inside (Momentum)
Jack Said (Optimum)
My Name is Earl Season 2 (Fox)
Red Baron (Showbox)
Rogue (Icon)
sleep furiously (New Wave Films)
Street Fighter: The Legend of Chun Li (Optimum)
Surviving Evil (Kaleidoscope)
The Uninvited (aka "4 Inyong Shiktak") (Palisades Tartan)
> Browse more DVD Releases at Amazon UK and Play
> Check the latest DVD prices at DVD Price Check
> Take a look at the current UK cinema releases (W/C Friday 2nd October)