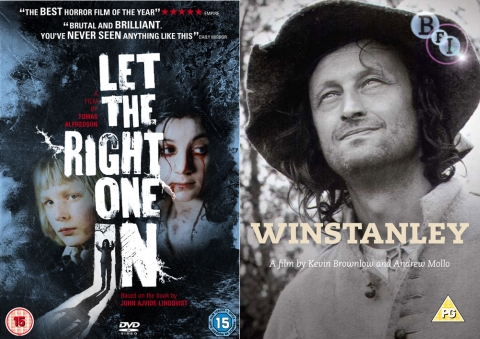 DVD PICKS
Let The Right One In (Momentum): Set during the 1980s, this rightly acclaimed horror is the story of a bullied 12-year-old boy named Oskar (Kåre Hedebrant) who develops a relationship with a vampire (Lina Leandersson). Directed by Tomas Alfredson, it is based on the novel by John Ajvide Lindqvist and has garnered widespread praise, won awards and become something of a cult hit over the last few months.
The cast is uniformly excellent and there are some striking visual images throughout, which makes it a refreshing change from the unimaginitive glut of remakes and horror porn that has been coming out of Hollywood in recent years.
The extras on DVD and Blu-ray include:
Commentary with Tomas Aldredson and John Ajvide Linqvist
Deleted Scenes
Theatrical Trailer
The DVD is presented in anamorphic widescreen with Swedish DD5.1 Surround audio and forced English subtitles (using the same translation as seen on the theatrical release).
* Listen to our interview with Tomas Alfredson about Let the Right One In *
[ad]
Winstanley (BFI): This 1975 film about the 17th Century social reformer and writer Gerrard Winstanley was directed by Kevin Brownlow and Andrew Mollo, based on the 1962 David Caute novel Comrade Jacob.
Winstanley deals with some of the life story of, who, along with a small band of followers known as the Diggers who tried to establish a self-sufficient farming community on common land at St. George's Hill near Cobham, Surrey.
The political turmoil of the English Civil War created a vacuum in which different religious and political conditions arose and this was a striking early form of Christian communism (centuries before Marx), although under the Protectorate of Oliver Cromwell, it was quickly suppressed.
The film is an interesting snapshot of who the Diggers were and the making of it was also intriguing. Essentially a low-budget project sponsored by the BFI (which put up £17,000) it looks authentic and took 8 years to finish, as the cast had day jobs and shooting had to be done over an extended period of time.
It is available on regular DVD or Blu-ray Disc, and the extra features include:
DVD: Dolby Digital 2.0 (320kbps) / BD: PCM Audio
Optional English HOH subtitles
New restoration by the BFI National Archive
New filmed interview with Kevin Brownlow and Mollo (38 mins)
It Happened Here Again (Eric Mival, 1976, 48 mins) – the making of Winstanley
9 Dalmuir West (Kevin Brownlow, 1962, 12 mins) – a record of the last weekend of Glasgow trams
Illustrated 32-page booklet with contributions by Marina Lewycka (author of A Short History of Tractors in Ukrainian), Eric Mival, Jonathan Rosenbaum, Tom Milne, and David Robinson; plus biographies and credits
[ad]
ALSO OUT
Flight of the Conchords – Season 2 (HBO)
Jam and Jerusalem – Series 2 (2 Entertain)
Knowing (E1 Entertainment)
Lesbian Vampire Killers (Momentum)
Monster Squad: The Complete Series (Fabulous Films)
Penny Points to Paradise + Let's Go Crazy (BFI)
Psychoville (2 Entertain)
The Morecambe and Wise Show Series 6 (2 Entertain)
Tokyo Gore Police (4 Digital Asia)
Tutti Frutti (2 Entertain)
> Browse more DVD Releases at Amazon UK and Play
> Check the latest DVD prices at DVD Price Check
> Take a look at the current UK cinema releases (W/C Friday 31st July)